Not knowing the law, not having an official letter of invitation, and not telling the situation as it is sends Hans Jensen right back to Chicago…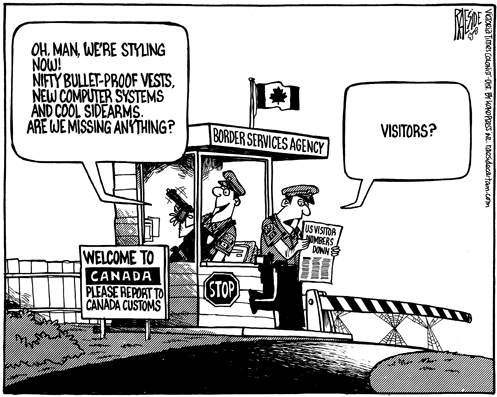 As a person denied entry into Canada, I was still able to:
Sleep for 5 hours in a hotel inside the country
Have a breakfast meeting with a fantastic group of people at the University of Ottawa, including cello students
Give a one-hour of a master class before being deported from the country.
All of this, without ever having entered the country officially! I was right in the middle of a down bow (playing the right hand) in the Chopin Cello sonata with a wonderful cellist Carol Tsai (who was playing the left hand) when I was stopped by Cellist Paul Marleyn who stood up and told me that it was time to go. At that moment, I was actually very surprised that the problems had not been worked out. I will never forget the expressions on the faces of the students as I was forced to leave in the middle of the class
I have never felt more like a celebrity than when I was being deported at the airport, personally escorted by two Canadian immigration officers. I told them that being able to go immediately to the front of all the lines was actually a great benefit, and that with all due respect I would greatly appreciate always having VIP status.
At the gate, they told me that they didn't need to watch me, trusting that I would take the flight home. They also added that I was not to come back in and that they would bar me from entering Canada for at least two years if they were ever to catch me in a similar situation.
That part was and remains very upsetting to me because I did not know the law and I did not have a copy of the law with me. If I had, I would have been able to point out that the immigration officers were in fact wrong. Three custom agents stated in front of me and another person that what I was doing required a work permit. All three were wrong.
I was at fault as well, by not having a letter with me that showed my invitation, and also by not knowing the Canadian law for temporary work.
As traveling musicians, it is crucial for us know any and all relevant laws when crossing international borders. For my case, it is perfectly legal to give up to 5 days of classes, speeches, or coaching in Canada without having a work permit. But there are some steps that we must all take to ensure that we do not run into any unexpected obstacles
Make sure to have an official letter of invitation on letterhead from the institution that you are visiting
Have the letter written in such a way that it fits within the language, content, and context of the law for whichever country you will be visiting
Include direct quotes and references to the law so you can point to the source text if necessary and explain the situation if necessary
My experience with Canada and Canadian customs officers over the years have always been great. Even during this trip, the senior officer in charge at the airport was very understanding of and sensitive to the situation. Had it not been for a somewhat overly-aggressive younger officer, I am sure they would have allowed me to enter the country to teach the two days of classes. (I even offered to teach there for the two days for no pay!)
After I found the official law on the Canadian Citizenship website, I called the immigration office after coming back to Chicago. I spoke to a very helpful and friendly customs officer at the Ottawa Airport who agreed that giving classes for two days does not require a work permit. That said, she did remind me to have the letter of Invitation with me the next time. The sensitivity she displayed and the time she spent talking with me was as unusual as the entire situation I dealt with in Canada. But, it was certainly welcomed and much appreciated.
The lesson of the story is to always remember to bring some proof of your reason for entering a country! If giving a master class or short series of lessons in Canada, bring a copy of this law (below) with you to show to any immigration officials if necessary.
Working temporarily in Canada: Jobs that do not require a work permit