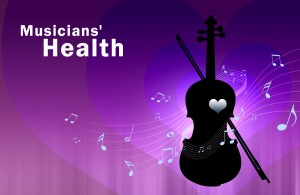 Are you more likely to get injured during a performance or while practicing?  Even though you may put out extra physical and mental effort for a performance, which could aggravate an existing injury, most injuries in musicians are the cumulative result of overuse.  What you do on one particular day – such as the day of your solo recital or symphony concert – may matter a great deal to you mentally, which can impact your performance, but it's what you do every day that takes a toll on your body.  Janet Horvath, author of Playing (less) Hurt, writes, "It is rare to see an acute or sudden injury in a musician." [1]  Richard Norris, M.D., author of "The Musician's Survival Manual" agrees, stating that "Overuse injuries are, unfortunately, all too common among instrumentalists…. [A] chronic overuse injury takes place more insidiously over a long period of time." [2]
An extravagant weekend of overplaying may put you over the edge, but if you were perfectly fine beforehand, a few days of rest and ice are likely to put you back on schedule.  If, however, you are in the habit of playing past your current level of stamina on a regular basis– or have a very irregular practice schedule – this could be enough to put you over your limit.  It's okay to have days where you don't follow all the rules, but if you want to stay healthy as a musician, it's the habits in the practice room that matter. 
Not sure whether or not your habits are up to par?  Or want more information?  Take a look at "Healthy Practice Habits, Part 1".
References
[1] Horvath, Janet.  Playing (less) Hurt.  Kearney, NE: Morris Publishing, 2002.
[2] Norris, Richard, M.D.  The Musician's Survival Manual: A Guide to Preventing and Treating Injuries in Instrumentalists.  St. Louis, MO: International Conference of Symphony and Opera Musicians (ICSOM), 1993.