An Interview with International Soloist Robert McDuffie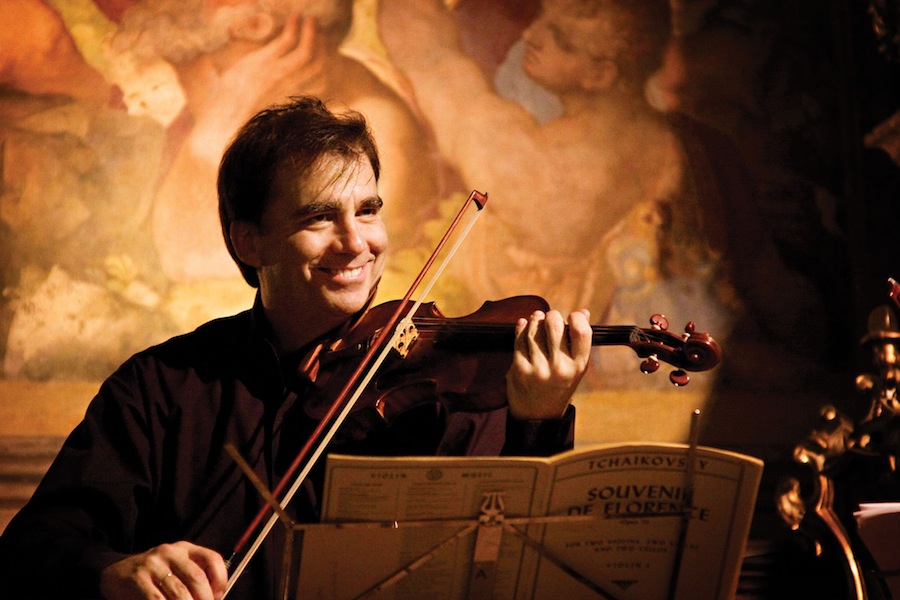 Robert McDuffie is a professional violinist renowned throughout the world, having performed with many of the major orchestras in North America, Europe, East Asia, and Australia. He once toured the US East Coast for about a month with the Hamburg Symphony Orchestra, and he has also appeared on A&E's Breakfast with the Arts, CBS News Sunday Morning, NBC's The Today Show, PBS's Charlie Rose, National Public Radio, and the front page of The New York Times and The Wall Street Journal.
We featured an article on McDuffie previously here on String Visions, talking specifically about the incredible work being done at the Robert McDuffie Center for Strings at Mercer University in Macon, Georgia. In this exclusive interview with Mr. McDuffie, we look at his personal and professional connections with Philip Glass's second violin concerto, written specifically for Mr. McDuffie.
Robert McDuffie and the Philip Glass second Violin Concerto
String Visions: Your CD recording of the Philip Glass second violin Concerto with the London Philharmonic and Marion Alsop is just a fabulous recording. The concerto was written for you, and so far you are the only person who has performed it.
Robert McDuffie: Yes and no but lets talk about that a little later in the Interview!
String Visions: Philip Glass said himself: "There is a maverick tradition in American music that is very strong. It's in Ives, Ruggles, Cage, Partch, and Moondog, all of these weird guys. That's my tradition." So Philip Glass traces his own lineage back to these composers. You have been exposed to his music for a long time. You had already performed his first violin concerto, and now you have the second violin concerto which you have been performing all over the world. It is a beautiful and fascinating work. Can you tell us about the history behind this project and your role in making this happen?
Robert McDuffie: Absolutely. I had a recording project back in the late '90s with Telarc, my record company. I discussed an American music album, and I came up with the idea of having John Adams' and Philip Glass' violin concertos together. It was Philip Glass' first violin concerto, and I actually fell in love with the piece by listening to Gidon Kremer's recording of it. I remember my wife and I sitting on the floor drinking a glass of wine, and I was absolutely seduced, just totally seduced by his music. So I was excited to learn it and I ended up meeting Mr. Glass but just on a purely professional basis. I went to his home in the village and played through the concerto, and he was very kind, polite and collegial.
String Visions: That was the first concerto. What was the inspiration for the second?
Robert McDuffie: It all started with the Vivaldi Four Seasons. I'd always been in love with that work. I thought it would be fantastic to create a project where the Four Seasons could be combined with a modern piece.
Then I thought "oh my gosh, Philip Glass is America's Vivaldi Wow. That's perfect. I'm going to go to him and tell him that."
String Visions: [Laughs] That's funny. How did Mr. Glass like that?
Robert McDuffie: Oh, I was nervous before. I said, "I hope you don't mind, but I think that you're America's Vivaldi." And he answered, "I'm honored." At that moment I was sitting down on his little terrace down in the East Village, and his little kids were running around. You know he's 75 and he has little kids.
Philip Glass said: "I am honored… He's a genius and I love that comparison. Thank you very much."
I responded: "Well, then, I want you to write an American Four Seasons for me." And he said, "I love it. Let's do it." And then I started feeling more confident, so I started giving him my laundry list of what I wanted…
String Visions: That is really a fasinating story!
Robert McDuffie: [continuing to speak to the iconic, legendary American composer Glass] "Alright. I'll tell you what else I want. I want it to be the same instrumentation as Vivaldi, but instead of the harpsichord I want you to use the synthesizer and to tap into the indigenous Philip Glass rock-and-roll kickass texture that turned David Bowie on to your music, that turned David Byrne on to your music, and that turned Paul Simon on to your music. I want that indigenous Philip Glass sound to come through so that people can hear the sound of the Philip Glass ensemble."
"I love it," was his response.
String Visions: So open-minded! Many composers would simply have said: "I've moved on now. I'm on another level of philosophical thinking now. I don't do that anymore." To be so open-minded is truly great.
Robert McDuffie: I know. There are some very sensitive composers out there who don't want to be pigeonholed. But the great thing about Mr. Glass is that there is a real sense of peace… perhaps it's the Buddhist thing… that he has about himself and his place in music. He would be the first to tell you, "If you don't like my music, don't listen to it."
String Visions: That is a very important quality to have as a creative artist.
Robert McDuffie: To put this all into perspective, the original first conversation took place nine years ago. Many things have happened since then. Mr. Glass has written a great number of works including "The Hours," "The Fog of War," and several operas. Then a few years ago he came to me and said: "Okay, I'm ready. I'm giving you a bonus. I'm giving you four solo pieces to introduce each movement, each season, and I've written them in a way that you can extract them from the concerto and play them as an eight-minute solo piece on your recitals."
String Visions: These solo introductions to each movement are great introductions within the larger work but also clearly stand on their own as substantive and unique works outside the concerto.
Robert McDuffie: He sent me the first movement, and I knew there was something special when you fall in love with a robotic performance (MIDI file) and you find that you know the rhythm and the harmonies and the pulse. I was shaking. I was so in love with the piece. I didn't change a thing. I didn't ask for one change, not one change. And then there is movement two, which you've heard and which I think may be his greatest creation.
String Visions: Yes, it's fantastic.
Robert McDuffie: In fact, when I played it through for him for the first time, he stopped and he said, "I can't believe I wrote something so beautiful." It's hard to articulate how achingly beautiful this music really is.
After I played it through for him, I said: "Okay, what do we think about the seasons? Let's talk about which season is which." It was very clear right away that we disagreed about what movements were what!
String Visions: Because he says the mathematical possibilities of permutations of the puzzle are in the order of 24.
Robert McDuffie: Right. I didn't go to Northwestern. I don't have…any idea what he is talking about
String Visions: It's just a repetition. How many times you can repeat a certain pattern and how they are changed and interrelated in a different order.
Robert McDuffie: Exactly. But that's so foreign to me. I don't care. I just care about the guttural quality of the music. If that's his pattern, that works. It works for me.
I think what makes this piece even more special is that we're not telling the audience what to look for. It ended up being something very positive, almost serendipitous, that we disagreed on the seasons because it actually adds another dimension. It brings the audience into the equation. The audience decides what they feel is winter and what's summer. To sum it all up Philip Glass wrote a masterpiece as far as I'm concerned. He hit a grand slam.
String Visions: So you recorded the concerto. How did you go about getting performances around the world with this concerto?
Robert McDuffie: My manager at Columbia Artists, Tim Fox, took this on as if it were another child and treated it as if his life depended on it, he booked it across the world starting with premieres in Toronto and London. Then a 30-city US tour which included Carnegie Hall, Disney Hall, Harris in Chicago, and San Francisco with the Venice Baroque Orchestra, one of the best baroque chamber orchestras in the world.
This was great that we played the Vivaldi, and those guys are fabulous. They tune at 440, so I was able to play Vivaldi. I can't play under 440, and that's the reason we picked Venice Baroque. They are Vivaldi experts, which provided me with a great experience to piggyback on them in the Vivaldi. They taught me a lot, especially since they used original bows. It was like riding a wave for 40 minutes. And it was one of the greatest learning experiences I have ever had, just an inspirational adventure for me.
String Visions: Did they keep their baroque bows for the Philip Glass.
Robert McDuffie: No they switched to modern bows, not modern instruments because they kept their gut strings on. And for this they became students of Philip Glass and my approach, and they were like kids in a candy store. They were so excited to learn this and they fell in love with the piece. When they rehearsed it without me, they were a little worried because of the repetition. "Oh my gosh, what have we gotten ourselves into?"
But then, when I showed up in Italy and we had our first rehearsal…" Wow! Wow!"
String Visions: I am sure many other violinists want to perform this work.
Robert McDuffie: Yes, but I have the rights until the end of 2012. So far I have performed it in more than 55 cities. Now let me answer the question from the beginning of the Interview. We did give permission to the Ballet Orchestra of Linz, Austria, where Dennis Russell Davies is music director, for them to perform it as a ballet with their concertmaster playing the solo.
It is a funny story. Dennis, calls me up and says, "Bobby, I need a favor. I need you to release the American Four Seasons to my concertmaster for two weeks and you come and play Barber with me that same year…"
String Visions: [Laughs] Really just like that?
Robert McDuffie: Yes I said; and so I'll be doing Barber with Dennis next year. But that's the only violinist whom I've released the rights to.
String Visions: I understand that you have tours and performances still planned with this Concerto in Korea, Australia and Europe etc. Good luck with that. It was really great talking to you and getting this inside story about your experience with Philip Glass' Second Concerto. Thank you for taking the time for this.
Robert McDuffie: You are welcome