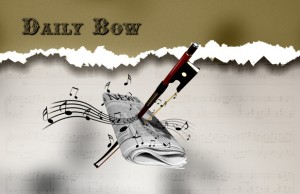 The holidays are a unique time of the year for most of us. It's not just the gifts and the glitz and the hoopla–it's the rare feeling of family and community and the fleeting glimpse of a world that starts to think of itself as one. The act of coming together is one of the most important features of any holiday in any season, because, more than anything, the holidays are about being with loved ones. Whenever my family convenes for the holidays, as we have now in our hometown of Seattle, WA, it's a good time, and, as the years have passed and my younger sister and I have grown up, it's become an increasingly diverse meeting of personalities within the familiar context of our nuclear family. My dad is in AIDS research, my mother is in manual osteopathy and Pilates, my sister is a PhD student in Classics at UPenn, and I'm a cellist.
We all come from a common place and have gone our separate ways, and the holidays give us time to converge again. Being together again throws all of our different paths into sharp relief, and, on car rides between errands, my sister and I often have a conversation about where we and our chose lines of work fit into the rest of the world. My parents are both in lines of work that directly help others in very overt ways, and the lives that they touch are many and varied. Alice and I, as an academic and a musician, sometimes feel that the fields to which we have chosen to dedicate our lives are, for lack of a better term, irrelevant. It's hard to ignore the guilt over pursuing a field like music when we're sitting across the table from people who directly help others. My mom helps rehabilitate people who had previously resigned themselves to lives of pain, limited mobility, or suffering from work- or stress-induced physical impediments, and my dad's research just won a $7 million grant to help move the search for an AIDS vaccine forward. We, the children, sometimes wonder what we bring to the table. When all the cards are on the table, I can't help a person walk with my music, and Alice's work in ancient Greek is unlikely to cure any major diseases.
Ask somebody to nail down the value of the musician or the academic, or the classicist, or the artist, and they'll often admit that it's a hard task to do. Would anybody die without what we bring to the table? Probably not. Nobody–and I've asked a lot of people about this–nobody will tell you that these arts and pursuits of the human spirit are irrelevant or even unnecessary. At the end of the day, we're all fighting to live longer, stave off disease, make our planet a better place, and for what? We're not just fighting to survive for the sake of survival. We're all fighting to survive so that we can stop the struggle and lend our lives to something more than what we are–lend them to music, to art, to learning. Nowhere right now does this message come across stronger than in post-quake Haiti.
The deadly earthquake that shook Haiti almost two years ago left it devastated and struggling for survival. The island is scraping toward tomorrow and working to rebuild itself so that its inhabitants can have food, water, and shelter. The residents of Haiti, though, are not content to set their goals at mere subsistence. A host of Haitian entrepreneurs, artists, and earthquake survivors are challenging the island around them to shoot past their goal of mere survival to aim for the stars: to aim for creating a life that is on the highest plane and that dares to dream far bigger than their immediate goal of disaster relief demands them to. Their ideas include establishing a conservatory that introduces Mozart and Tchaikovsky to children, a center that issues loans for socially conscious businesses, and an insurance program that grants small loans to families suffering hardships as a result of natural disaster or who have fallen ill with cholera, the biggest health threat facing the island now.
One survivor, a chef named Ron Duprat–a chef with enough renown to have been featured on a season of Bravo's Top Chef–says that now is the time to build a culinary school to put Haiti on the map: a school with kitchens, an herb garden, a bakery. In a time when most Haitians are striving to find food on which to subsist, this vision may seem like an odd one to harbor. Now, though, is the time that Duprat says the island needs hope and dreams the most. Another of these survivors is Antoine Romel Joseph.  After surviving 18 hours under earthquake rubble, the Juilliard-trained, nearly blind violinist was inspired to introduce classical music to young Haitians, and his goal is the erection of a modern performing arts center. He realized that, due to the difficulty of the situation in his homeland, donors would need to be brought in to assist, and he organized two concerts, one to introduce school children to musical instruments, and the other to perform the music of George Handel and Franz Schubert through a series of solos that will culminate with a piano quintet. The concerts were not easy to organize in a disaster zone. Joseph had to find transportation for visiting musicians as well as for a cello and a double bass. It took three weeks of calling rental car companies, most of which had no vehicles available. When he finally succeeded, the children's concert ended up beginning two hours late due to Port-au-Prince's circus-like traffic. "Everything is difficult here," Joseph said. "The challenge is to overcome it. … You have to have nerves and determination. And patience."
As to the timing of his dreams, Joseph concedes that classical music is not as pressing a priority for Haiti as food, health and shelter are, but he insists that it has an emotional and intellectual value that can actually help children become smarter. Studies, of course, bear him out, but the dreams taking root in Haiti are not just about what art can concretely give the children and citizens of Haiti. Throughout history, human existence has almost always been about looking past the mundanity of our struggle to survive. It's been about looking into the future and into ourselves to imagine the best possible life, and that vision–that farsightedness that drives us to look far past what we have in front of us–is what drives us forward and gives us hope in our future and joy in our present. As dreamers surface amid the rubble in Haiti, the world is coming to support them. At this time of the year, more than any other, it behooves us to dream bigger, aim higher, and imagine more, both for ourselves and for our families, our communities, and our world. We can all dream of better things ahead, and our dreams will give us hope, worth, and light to last us into another year–and take us further than we thought we could go.