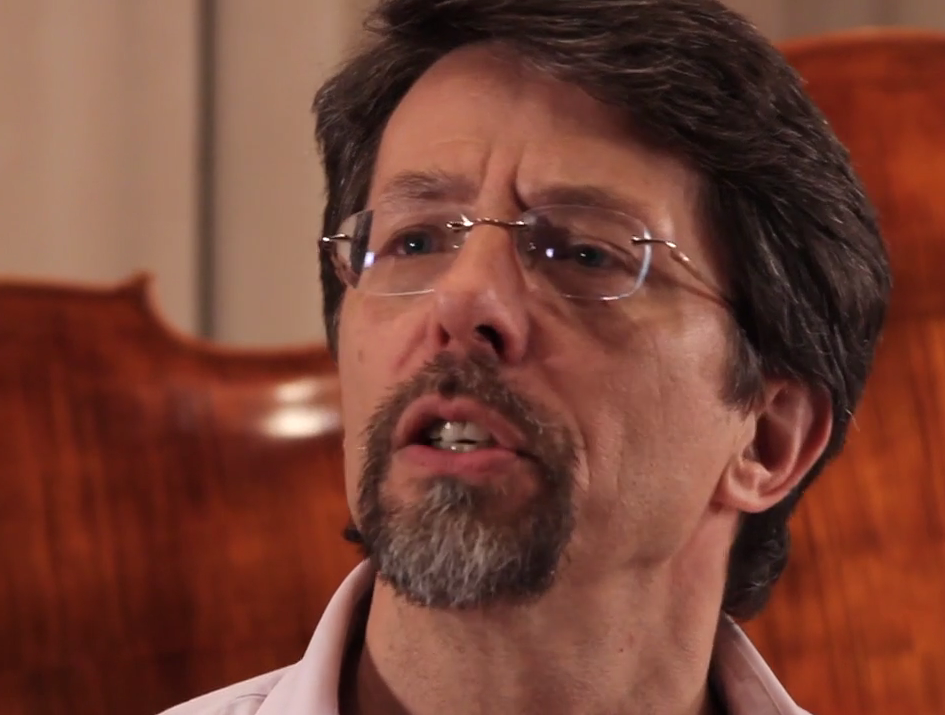 This is an update to the first article on Jeff Bradetich we posted back in July: "The Ultimate Challenge." This piece reproduces his six successful rules of practice at the end, but also takes a deeper look at his visionary aims, as well as summing up all of his great contributions to Ovation Press and String Visions.
As an acclaimed double bassist and editor with Ovation Press, Mr. Bradetich has contributed exclusive solo with piano editions and chamber arrangements for bass to Ovation Press, as well as tremendous inspirational and mentorship resources to String Visions.
Beyond his personal work with the double bass, Jeff Bradetich took a visionary role in shaping the global presence for double bassists and classical music. In 2008, he established the Bradetich Foundation, which "strives to advance and cultivate a prominent international presence for double bassists, and to command high performance standards and opportunities through solo competitions, educational outreach and cross-cultural connections."
Representing the culmination of his professional career and vision, the Bradetich Foundation actively works to identify and empower the top performers in the world, as well as undertaking impressive educational outreach efforts through instructional/performance media, concerts for children and older adults, and promoting the double bass through all channels.
Mr. Bradetich shares his thoughts on the Bradetich Foundation
To be involved with a musical visionary like Jeff Bradetich is truly humbling and inspirational. Below are Mr. Bradetich's many contributions to us.
On String Visions – Video Interviews and Mentorship:
On Ovation Press – Exclusive Scores + Video Commentary:
---
Finally, in anticipation of an upcoming mini-course on practice here at String Visions, below are Mr. Bradetich's six rules for successful practice once again, presented in an abridged video format and in their complete form as they appear in Bradetich's book The Ultimate Challenge (pg. 136-137)
Rule #1 – Strive for a higher standard than what is expected
This rule has broad applications throughout life. Applied to the bass, it is vital to not allow someone else's lack of expectations of the bass, or of the individual, weaken or lower self-expectations. As in most aspirations, the end is often not reached but a certain percentage of the goal is achieved. If the bar of expectations is raised higher, then the level of accomplishment will rise accordingly. A good example of this on the bass can be seen in shifting. Generally, a one-octave shift is the largest that is asked for in music. If that is the largest shift practiced it represents the limit of ones technique and therefore cannot be expected to be 100% controlled. If two-octave shifts are practiced, then they become the limit and a one-octave shift is merely 50% of what can be accomplished. By pushing the standard to a higher level than what is needed or expected ,everything else will also rise to a higher level.
Rule #2 – Set Goals
Know where you want to go in the long term. Know what you want to accomplish in the short term. Know how to work on it in the immediate term.
Rule #3 – Why practice?
What are your reasons for practicing?
To Improve
To prepare a performance
To get a job
To get an "A"
Because my teacher told me to
Because my parents make me
For enjoyment
Because I am never good enough
Rule #4 – Be a good learner "Once you have knowledge, you can't return to ignorance."
The best student brings something "to the table" at every lesson.
Learn everything you can from your teacher. Ask questions.
Be involved in the learning process. Who writes all of the bowings and fingerings in the music, the student or the teacher? If the student does, he or she will remember and internalize the information more thoroughly.
Put yourself in an environment where you can learn from others

Attend bass recitals and master classes
Play for peers and other instrumentalists
Attend other instrumentalist's master classes, especially the cello
Go to as many concerts as possible
Learn from teachers of other instruments and from singers
Rule #5 – Avoid self-imposed limitations (The seven last words of a dying musician: "I've never done it that way before")
"I'm a bass player, I can't do that bowing" (fingering)
"I don't like it that way"
"That's not the way we did it at my school"
"My teahcer won't let me try that"
Although these may sound petty, they are common in any language. Many young players, especially those recently out of school and on their own, suffer from the Glass Ceiling syndrome. This is where they can see their goal but they don't seem to make any progress towards it, like a helium balloon hitting a glass celing. The balloon knows the goal but can't negotiate its way past the glass ceiling. Often, the player thinks that all they must do in order to improve is practice six hours per day, when, in fact, a simple adjustment in technique, practice methods, or awareness is what is needed.
Rule #6 – Become the Teacher
Ultimately, who is the real teacher? The student, of course. With but a one-hour lesson per week, the teacher cannot be with the student daily and remind him or her of what is needed and how it should be done. Wheras, the student is in the practice room alone many hours each week and must take on the role of the teacher each day. It is paramount that the student understands the concepts behind the teacher's instructions and applies those concepts in their daily practice.