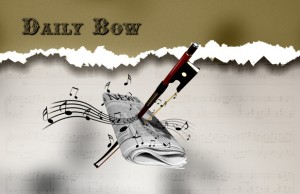 Artists Set Tone for Future with New Technologies in Performance
There's no question that the constant evolution of technology affects our daily lives. New cell phones and computers develop at an exponential rate, meaning that more powerful technology will become available to the public more and more quickly. Take the iPhone, for example. Apple released the device for the first time in 2007. After five years, we're already on the fifth generation. The rate at which technology improves is astoundingly fast. With this in mind, it's no surprise that the rapid development of technology is altering the way we approach the performance of music. Tradition, however, has impeded a digital takeover of classical music. Nevertheless, changes are happening, and they point to an interesting future for all performing musicians (and a darker one for those of us in the page-turning industry).
Much like how books, magazines, and newspapers have become increasingly more digitized recently, sheet music may be entering its twilight years. Many performers, notably the pianist Kirill Gerstein and the cellist Matt Haimovitz, have started reading music off of iPads or laptops, reducing clutter and the stress of page-turning. Using a cordless pedal that connects with your electronic device, you can simply turn pages by tapping your foot. The benefits are obvious: no more frantic reaching for the dog-eared page to make an impossible turn, the ability to read a full score durning performance without the burden of turning hundreds of pages, and the ability to jump large repeats of 20 pages in a single tap of the foot. The technology is far from perfect, however. Haimovitz, although enthralled by the possibilities of the digital music stand, has mixed feelings about the problem of annotation:
I just bought my first iPad. I'm dying to use the new technology, but there's an issue for me. It is that I really like to notate my scores. I'm so used to working with pencil and paper, putting my bow markings and other notes in my printed scores; I need that speed.

I know people say you can do this with the laptop, using the Adobe Acrobat programs. But for me, it would slow down the creative process. I make changes all the time. I would need weekly updates or daily updates on what I'm doing!
The ability to interact with a digital score with a stylus in the same way we write on paper is unfortunately a few years away, but there is still some impressive technology that has made its way into classical music already. The Kronos Quartet, unsurprisingly, is one of the first groups to use some of this innovative technology. One particularly interesting project involves a new set of devices called the K-Bow system. Here's how it works: a bow that's outfitted with numerous sensors—such as an accelerometer and a mercury switch—measures various aspects of performances, such as the speed of the bow, relative pressure, and bow angle. This data is transmitted via bluetooth to an audio engineer somewhere in the hall. The engineer then has sound samples loaded that are activated by certain bow actions. A certain pressing of the bow could trigger a change in pitch; a fast swiping motion could cause a pre-recorded sound, such as a bird singing, to play through speakers. Larry Neff, the production designer for Kronos, had mixed reactions to recent work K-Bow:
We did this last year in Syracuse. The piece felt like it was a bit overwhelmed by the technical difficulties in performance and the amount of expense and time we spent to get the system up. But you never really know where these very delicate, leading edge technologies are going to lead you.
While new technology has not completely taken over classical music yet, there's certainly a movement on the horizon. Soon the day will come where string quartets are formed as "digital" groups. The libraries of old scores covered with markings will be a thing of the past; live performances will continue to use greater amounts of increasingly complex technology. How do you feel about the continual advance of technology into our lives and in our music making? Is it invasive and overly complex? Or is it liberating and ripe with potential? Comment below!