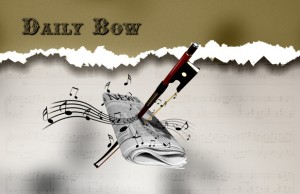 With so much talk about the survival of classical music, much attention has been given to possible solutions–how best to build a lifeboat for an art form that is facing increasingly rough and muddy waters? A little article published in last weeks' Salt Lake Tribune does a lot to highlight a potential foothold for classical music in schools. Carol Lindsay's local interest piece featured 7th through 10th grade students in the Davis County, Utah, school district who were being honored for their completion of their International Baccalaureate projects. The International Baccalaureate program, IB for short, is an academic program similar in nature to the more widely known Advanced Placement program. Both programs offer more challenging curriculum than the regular classes offered at a high school, emphasizing advanced study skills, creativity, self-direction, and synthesis. Students who successfully complete the program earn an IB diploma and a substantial amount of credits that can be applied to their college career, giving them a leg up on finishing their required coursework once they move on. The program is self-selecting, which means that students choose to participate, a choice which often flies in the face of the direction society perceives its youth to be taking.
The Tribune article features students who were honored for their completion of the IB Middle Years program, which prepares them for the regular IB program. In order to successfully earn their diplomas, students were required to present a project of their own formulation, ranging from a student writing a 25-chapter novel to another student giving a performance of Bach. These students are joined by thousands of other students across the nation in similar endeavors, showcasing their diversity and creativity. While the program is not necessarily linked in any way to classical music, the trend shown here by IB and AP students is one that should send a strong message to those who would advocate cutting classical music programs in schools. Students, it turns out, self-select for programs that are more challenging than we would expect them to seek out, and, as the diversity of projects presented by the Davis County IB students illustrates, the creative interests of junior high and high school students extend far beyond the Justin Bieber and "Glee" that we give them credit for. Paulette Hopfenbeck, the diploma coordinator for Clearfield High School in Utah's Davis County, believes the program helps students learn how to ask questions. The program is self selective, so students choose to join the program. While Hopfenbeck describes her students as high achievers, she says it's not necessarily because they are the brightest students, but rather are the hardest workers. In other words, students seek out challenges and look for outlets for their creativity.
So what does this have to do with classical music?
Much of the mounting panic about the future of classical music hinges on the argument the younger generations are terminally uninterested in that which lies outside their comfort zone. Articles about the impending downfall of classical music prominently feature arguments that students today are simply uninterested in the art form, which makes the reintroduction of classical music into schools a massive uphill battle. Students like those featured in the Tribune's article show us that we are not giving enough credit to the youth of today, who are seeking out new information and experiences–pushing themselves to expand their horizons and comfort zones. This mentality, which is so beautifully fostered by AP and IB programs across the country, is exactly what classical music pundits are bemoaning as dead and gone. As the students in Utah illustrate, that's simply not so. Schools provide exactly the kind of fertile environment that classical music needs to enable it to put down roots and start growing a real base again. So, rather than turning to clubs and bars as last-ditch recruiting grounds for classical music, why not start planting seeds in our schools? Why not give students the chance to self-select for classical music? If the rate of students who choose challenges like IB and AP are any indication, more of them will choose it than we think, if we only provide them with the opportunity–and that can start in our schools.