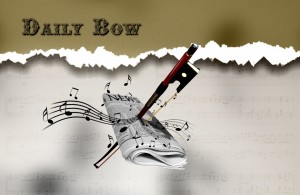 This Monday's Daily Bow is dedicated to the movers, shakers, (and rockers) of classical music!
The New Century Chamber Ensemble
San Francisco hosted some explosive energy last weekend. From May 10-13, The City's New Century Chamber Orchestra, described as "classical music's equivalent of a rock band," celebrated its 20-year anniversary with the Commedia dell'Arte world premiere by Pulitzer Prize-winning composer Ellen Taaffe Zwilich.
"On Our Way," a documentary released this month with footage of live performances and more, is an excellent guide to life in the group, which closes its 20th anniversary season this week around the Bay with a program featuring a world premiere by Pulitzer Prize-winning composer Ellen Taaffe Zwilich.

On Saturday at Herbst Theatre, music director Nadja Salerno-Sonnenberg and the orchestra present "Commedia dell'Arte." The bravura violin concerto was written for Salerno-Sonnenberg as part of a featured composer program established in her first year as music director in 2008.

"I've always been attracted to Ellen's writing through the years, and I felt sure she would write something unique for us — keeping in my own playing style and the talents of the orchestra," Salerno-Sonnenberg says. "I am thrilled with the results and can't wait to share this with our audiences."

Zwilich, 73, a Juilliard-trained composer who studied with modern music giants such as Elliott Carter and Roger Sessions, wrote music for her husband, violinist Joseph Zwilich (who died in 1979), and her "Three Movements for Orchestra," also known as the First Symphony, won the 1983 Pulitzer Prize.
Read the full story: New Century Chamber Orchestra has something new for 20th year.
Jacob TV and Chicago's Fulcrum Point New Music Project
Taking a cue from Steve Reich and his previous work with video operas, a Dutch composer joined forces with the Chicago-based new music project to premiere an intersection of music and global affairs. The News, which was performed in Park West, Chicago a few weeks ago, seems aptly timed given the upcoming NATO summit here in Chicago later this week.
Jacob TV is one of the most thought-provoking provocateurs working in today's new music. Also one of the most savagely entertaining.

As such, the Dutch composer (whose given name is Jacob ter Veldhuis) is an ideal soulmate for Chicago's Fulcrum Point New Music Project, which for more than a dozen years has served as a welcoming forum for composers who are pushing the boundaries between classical music, pop, jazz, electronics, multi-media and beyond.

Stephen Burns' intrepid ensemble was an active partner in the creation of Jacob TV's big new video opera "The News," which received its Midwest premiere courtesy of Fulcrum Point in two enthusiastically received performances Friday night at Park West. Fulcrum Point had given the world premiere a week earlier in Pittsburgh and is planning further performances in other cities in the U.S. and around the world.

As the title suggests, "The News" takes its topical material from actual news footage from around the world, presented in 36 short scenes totaling about 90 minutes. Everything from speeches by world leaders to celebrity interviews to women's makeup infomercials is sliced, diced, speeded up, slowed down, dressed in fluorescent colors and served up with bitterly funny irony. Speech rhythms help shape the musical score presented by Fulcrum Point and two vocalists, who provided a high-energy, pop-infused accompaniment to the loopy activity pulsating away on multiple video screens
Read the full story: Video opera a funny-serious sendup of TV news fishbowl
The Rock-Star Maestro of Indie Classical
Speaking of good timing, with all of the talk of "Indie Classical" here at String Visions last week, conductor Steve Hackman is moving to New York to embrace one of the primary centers of the growing movement.
Come mid-June, the 31-year-old rock-star maestro of Happy Hour at the Symphony — the one who sometimes elicits playful overtures from women in the audience — will leave his carriage-house home behind a historic Northside residence and settle in Manhattan's West Village. But he'll keep his ties to the popular Indianapolis Symphony Orchestra series.

"I'll be based in New York City for networking opportunities," Hackman said. "You can experience the way someone is doing something new in music every night in New York."

Pitchfork.com calls indie classical "a high-functioning cottage industry now, complete with its own roster of independent labels. Lately, it's become hard to even tell an indie rock musician and a composer apart."

Hackman wants to develop opportunities for the kind of indie-classical concerts he specializes in with such artists as My Brightest Diamond and Bon Iver. "There's a whole new scene of classical music, and I want to be in a central place where we can share our ideas."

Born in Cincinnati, Hackman grew up in Cary, Ill., northwest of Chicago. After high school graduation, he went to the University of Illinois, and then got into the exclusive Curtis Institute in Philadelphia as a conducting student. There, he got to know the members of Time for Three, the ISO's ensemble-in-residence and an integral part of Happy Hour programming. (At a recent Happy Hour, one of the Time for Three members accidentally introduced Hackman as their "condorktor," evoking laughs from the audience and a wry smile from the conductor himself.)

Despite his appeal, Hackman has remained somewhat elusive.
Read the full story: ISO Happy Hour conductor moving to New York
Accordo – From the Concert Hall to the Small Venue
Along with "Indie Classical" we've also been hearing a great deal about the move of classical music performance from the traditional stage to alternative and more intimate locations. Classical Revolution isn't the only wave making ripples in this ocean.
As the strings exhaled the final notes of Beethoven's String Trio in G major, audience members murmured, breaking the tension of their perfect silence. This was a rare classical music experience: listening to world-class musicians in a venue where the wood of their instruments echoed, and their faces could be read.

"I can listen to a CD or a DVD and hear music," said Anita Macias-Howard, sitting near the front of Christ Church Lutheran in Minneapolis. "At these venues I can hear and see the music."

Accordo plays the final concert of its third season Monday at Christ Church, and it is an example of a small-venue classical music trend.
Read the full story (VIDEO INCLUDED): Classical music gets up close and personal
Kid Rock and DSO Make it Loud!
Finally, the "marriage" between the Detroit Symphony Orchestra and Kid Rock gave rise to volume, entertainment, energy, and enlightenment! Check it out – Mark Stryker: Kid Rock, DSO music mix was loud – and fun!