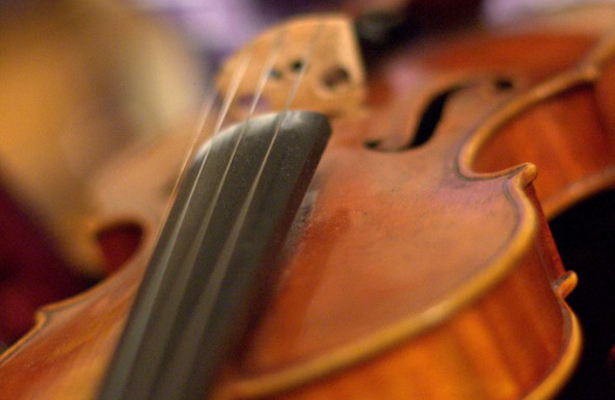 During his lifetime, Antonio Vivaldi wrote roughly 240 violin concertos. However, as sometimes happens with the works of legendary composers, little gems can get lost here and there, only to resurface many years after their authors' death. In the case of Vivaldi, a few years ago a lost flute composition was discovered. And, just recently an 18th-century violin concerto has been discovered in Dresden… thought to have be composed by Vivaldi himself!
An 18th-century violin concerto, possibly by Antonio Vivaldi, has been discovered in the archives of the Dresden State Library. The technically demanding 17-minute work has been attributed to the Italian composer by Baroque expert Michael Talbot, and may receive its modern premiere this September.

The work in A major was discovered in mid-June by Icelandic scholar Jóhannes Ágústsson, who noted markings on the orchestral parts such as 'Allegro non molto' and 'Qui si ferma a piacimento' as being peculiar to Vivaldi. Talbot has suggested that the phrase structure and stylistic flourishes indicate a composition date of between 1729 and 1733.

Adrian Chandler, director of Baroque ensemble La Serenissima, is convinced the concerto is by Vivaldi. 'There are too many compositional techniques that you only find in Vivaldi,' he said. 'Having said that, I've never seen Vivaldi this hard – there are several top C sharps and I'm not talking third position, and technically speaking it's leagues ahead of anything else he's written.'

According to Chandler, the piece may have been written specifically for Johann Georg Pisendel, then concertmaster of the Dresden court orchestra, who had studied violin and composition with Vivaldi. 'Vivaldi had a very intimate knowledge of what Pisendel was capable of and I think it may have been written as a kind of perverse concerto, just for him.'

The concerto has not been approved by the Vivaldi Institute in Venice, as the members of its editorial committee remain divided as to its authenticity. 'Because of the rules we operate, where each individual members has in effect a veto, no RV number will be assigned in the immediate future,' explained Talbot. 'I foresee that in time the situation will be resolved more clearly, and my own belief is that the concerto will come to be recognized as one of Vivaldi's, with the slight proviso that some of the solo material could have been reworked or replaced by the Dresden musicians – something that happened a lot in the Dresden repertoire.'
Assuming that this work is recognized as authentic, Talbot regards this as possibly the most important Vivaldi concerto find since the Turin manuscripts in the 1920s. As of now the concerto is awaiting final approval from the Vivaldi Institute in Venice.
Above audio clip source – http://www.kbaq.org/music/thisweek/20120701
Above article source – http://www.thestrad.com/Article.asp?ArticleID=2301
Update (07/10/2012) – The latest news on this seems to be that this possible Vivaldi concerto will not be receiving its premiere in September, likely due to reasons of how the issue of its authenticity could affect the concert season and ticket sales
Other stories from the classical music world:
Summertime is here! Classical Music Festivals
With summer now well in full swing, there are number of exciting classical music festivals happening and coming up all over the country. Here is just a sample:
Woodstock Mozart Festival. July 28-Aug. 12, Woodstock Opera House, Woodstock, Ill.; 815-338-5300. The guest roster for the 26th edition of this popular northwest suburban festival includes Chicago keyboardist David Schrader, former CSO principal oboe Alex Klein and the Dutch husband-and-wife violinists Igor and Vesna Gruppman. Schrader will conduct early Mozart concertos from the keyboard, and Klein will perform Mozart's Oboe Concerto under Arthur Arnold's direction. The historic jewel-box venue is an attraction all by itself.

Peninsula Music Festival. Aug. 7-25, Door Community Auditorium, Fish Creek. Wisc.; 920-854-4060,. Under music director and conductor Victor Yampolsky, professional players from various U.S. orchestras gather on the beautiful Door County peninsula each August to present nine different symphonic programs. Guest artists for the 60th season include Orli Shaham and Anton Nel, piano; Hilary Hahn, violin; and Stephen Alltop, conductor. Beethoven's Ninth Symphony and a Gershwin-Copland program are among the offerings.

Green Lake Festival of Music. Now-July 22, Thrasher Opera House and Ripon College, Green Lake, Wisc.; 800-662-7097. Classical and jazz concerts, a chamber music camp and a choral institute make up this year's fare. The small-town environment attracts talented young musicians and places a high premium on artistic synergy and quirky, innovative programming. The Amelia Piano Trio, Orion Ensemble and 2011 Cleveland International Piano Competition winner Alexander Schimpf are among this year's participants.

Des Moines Metro Opera. Now-July 15, Blank Performing Arts Center, Indianola, Iowa; 515-961-6221. Two alums of Lyric Opera's Ryan Opera Center, soprano Marjorie Owens and bass Stefan Szkafarowsky, are among the singers taking part in the season, which consists of Mozart's "Don Giovanni," Tchaikovsky's "Eugene Onegin" and Puccini's "La Rondine," which launched this high-quality regional company 40 years ago.

Santa Fe Opera Festival. Now-Aug. 25, Santa Fe., N.M.; 800-280-5654. Here the opera is not only first-rate but it's accompanied by dazzling desert sunsets and the twinkling lights of distant Los Alamos. All five of the season's operas will be seen in new productions. Amanda Echalaz, Lyric's rumored Butterfly-to-be, makes her U.S. debut as another Puccini heroine, Tosca. Chief conductor Frederic Chaslin leads the first American performance of the new critical edition of Rossini's "Maometto II," with Luca Pisaroni in the title role. Mariusz Kwiecien stars in Szymanowski's "King Roger. Lyric's Andrew Davis conducts Strauss' "Arabella," with Erin Wall in the title role. And Nicole Cabell and Eric Cutler will reprise their 2008 Lyric roles in Bizet's "The Pearl Fishers." All this and a gala concert hosted by Susan Graham.

Santa Fe Chamber Music Festival. July 15-Aug. 20, Santa Fe, N.M.; 888-221-9836. There's never a dearth of tempting music (especially new music) or important musicians at this movable feast of a festival, celebrating its 40th anniversary. The schedule holds premieres of commissioned works by Magnus Lindberg, David Del Tredici, Aaron Jay Kernis and Helen Grime. Newcomers include Van Cliburn Competition gold medalist Haochen Zhang, Kirill Gerstein and Leila Josefowicz, joining such festival mainstays as Lynn Harrell, David Schifrin and Ida Kavafian, also the Tokyo, Orion and Miro quartets. Aug. 4-6 will bring a symposium on "Music, the Brain, Medicine and Wellness." Browse the fascinating New Mexico Museum of Art when attending concerts in the adjacent St. Francis Auditorium.
Aspen Music Festival and School. Now-Aug. 19, Aspen, Colo.; 970-925-9042. If your travels take you to the Colorado Rockies, don't miss this major festival of symphonic and chamber concerts, opera and contemporary music. Conductor Robert Spano's first season as music director promises a made-in-America program focus, along with works by this year's resident composer, Augusta Read Thomas. There will be more than 300 events performed by more than 800 professional and student musicians, including numerous alumni. Staged productions include Mozart's "The Magic Flute" and John Harbison's "The Great Gatsby." Mahler's mammoth Symphony No. 8 is the season finale.
No list would be complete without mentioning the Greater Chicago area's own Ravinia Music Festival. The oldest outdoor music festival in the United States draws artists and performances of all genres. This season has already seen legendary classical heavyweights such as Leon Fleisher, Midori, and the Emerson String Quartet. Last night though we got a little bit more of a 'relaxed' treat – a visit from broadway and film star Idina Menzel. Ms. Menzel performed a wide range of numbers with the Chicago Symphony Orchestra, including numbers from Wicked (in which she originated the role of one of the primary characters) as well as classics from songwriters such as Cole Porter.
Idina Menzel sings Cole Porter's Love for Sale