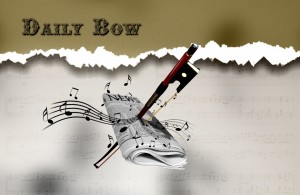 It is a wonder that the notes of classical music continue to ring with such value centuries after they were written. But is the same true for the words written about classical music?
Recently I came across an old article written in 1994 by professor John Sloboda (who was Professor of Psychology at Keele University in the UK at time of the writing), a leading international scholar on the musical mind. It's amazing to me how much of what was said back then remains true today, despite all that has changed.
VERY few people in our society achieve high levels of musical performance. Of the thousands of young people who begin to learn a musical instrument every year, only a handful reach the levels required to join a professional symphony orchestra, for instance. Most young people abandon instrumental study within a few years. Why should this be?

Many people believe that 'musicians are born not made': that there is some inherited 'gift' or 'talent' for music that sets a small number of people apart from birth, and destines them for musical excellence. According to this belief, the reason why the majority of people fail to make progress on an instrument is that they lack this special 'gift'.

I want to show that the scientific evidence for such beliefs is much less secure than might be thought. I will attempt to convince you that the vast majority of the population possesses the inherited characteristics needed to perform music well, and that differences in accomplishment are mainly due to differences in experience, opportunity, motivation, and the differences in learning outcomes that follow from this. In other words, musicians are made not born, and so the question of real psychological interest is how do people become musicians.
He goes on to distinguish the two broad types of musical skill: technical and expressive. He also lists several ways in which high ability develops:
Musical experience in infancy
High levels of practice
High levels of appropriate family support
Early teachers who make music lessons fun
Opportunities for deep emotional responses to music
This is a powerful and impactful read, and it highlights an early shift in modern attitudes towards the way we learn and develop as musicians. Likes musical notes, words can have long-lasting meaning that effect change far beyond the physical page.
Read the full article – What Makes a Musician.
Other stores from the classical music world