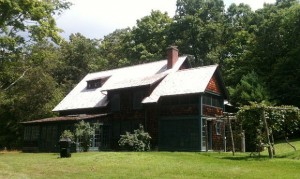 The house of iconic American composer Charles Ives is under threat! Located in Redding, Connecticut, Ives' house was built in the early 1900s and is where he and his wife lived until his death in 1954. Subsequent generations of Ives have resided there since then.
However, now investors and developers are lined up to purchase this prime real estate and demolish the house in order to make way for something else… with little to no regard for its historical and cultural significance.
Charles Ives' country house is hidden away amidst verdant rolling hills of unspoilt New England countryside. Chipmunks and gophers scuttle in the surrounding forest and the fragrant air is filled with dragonflies, humming birds and the sound of leaves fanned by the wind.

It would seem that time has stood still since Ives bought this land in Redding, Connecticut. He had a house and barn built in 1912 and moved in with his wife Harmony a year later. It was to become their country home until his death in 1954 and has been lived in by the Ives family ever since.

Until now…

…It's  heartbreaking  to  think  that  this  beautiful  and  important  musical  landmark could be demolished in a matter of weeks.
Read the full account from cellist and performance artist Zoe Martlew
Take Action
If this is something you want to see avoided, sign the petition for President of the US. In addition there is also a Facebook advocacy group Save the Charles Ives House that you can join. The Charles Ives Society formed this group as well as an action committee to save the heritage house from rampant developers. They are working with local organizations and other parties regarding long-term plans for the property. Their official statement is that they are optimistic about saving the home from demolition.
We'll be keeping an eye on this issue and will announce any developments we hear. In the meantime, your efforts could go a long way to helping out. Take a moment and make a difference.