I am excited to present the first of a monthly series from two fellows at Community MusicWorks (CMW). You may remember CMW from an interview I did with founder and violinist Sebastian Ruth last year. This first installment was written by violist and first-year fellow Annalisa Boerner. Ms. Boerner will alternate with cellist Lauren Latessa Thomas, another first-year CMW fellow and also a String Visions guest contributor, for future installments.
As current first-year Fellowship Program participants, Ms. Boerner and Ms. Latessa each teach a studio of private students and frequently perform as members of CMW Players and the Fellows String Quartet. These ensembles perform throughout Providence and further afield in Southern New England, both in concert halls and in nontraditional community settings. Once a month, throughout the school year, Ms. Boerner and Ms. Latessa will share their highlights from their experience at CMW with us.
—Colin Cronin, Creative Director
By Annalisa Boerner
The CMW Players performed Joachim Raff's Octet in C Major at the Armory Farmers Market on September 13, and the experience served as a microcosmic view of the world my colleagues have created at Community MusicWorks.
When I arrived at the Farmers Market, Sebastian was warming up on violin and had already attracted a small herd of children around his knees. He played children's songs for them and smilingly engaged them in conversation. A few yards away was the spot where we would perform (following the end of a drum circle performance), so we set up our octet under a tree at the edge of the Dexter Training Grounds.
Liz Cox, whom I've discovered to be a blend of superhero, comedienne, and all-around facilitator, brought a stack of literature and our iconic red stickers from the office so that we had some tangible CMW materials to offer to the crowd. Some physical literature was essential as we were unable to effectively introduce ourselves from the grassy "stage" with our audience of shoppers in near-constant motion.
When we had eight instruments in tune, eight binders of music settled on eight stands, and eight pairs of eyes in contact, the ensemble launched into the Raff. Given our new and disconcerting acoustic (Mother Nature furnishes no reverb), the Players leaned in, watching, listening, and focusing with the sort of attention that adrenaline and acoustic uncertainty readily provide. Our pages flew about in the breeze and the sun indiscriminately shone in our eyes, but we held to one another when the musical going got tough. The Raff is a roller coaster of emotional content, and it was a pleasure to ride it with my colleagues.
The performance and its environment appear to me, even at this early stage of my Fellowship Program experience, to be quintessential CMW. We offered our music to a new audience, and several of the people we met were so enthusiastic as to donate on the spot. We took on a performance that that would stretch and challenge our understanding of the Octet, and we learned volumes from the experience. We made new connections in our neighborhood and took a step toward expanding the space that the arts occupy in our local landscape, and I'm excited for our neighborhood arts adventures of the year to come.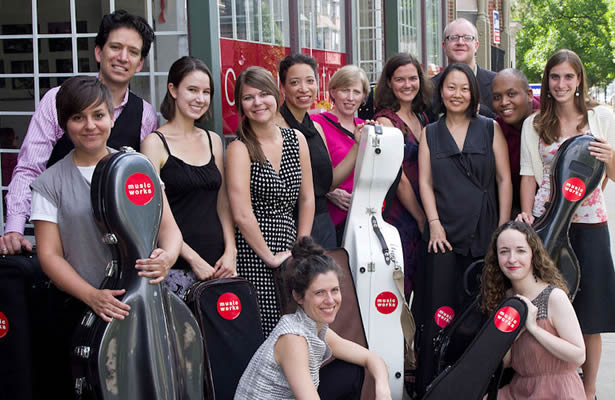 Community MusicWorks is a community-based music performance and education program that provides free violin, viola, and cello lessons for students who live in the West side neighborhoods of Providence, RI. Its structure, as a storefront residency for professional musicians in an urban neighborhood, has become a new model of successful urban arts education over the past fifteen years. CMW's Founder and Artistic Director, Sebastian Ruth, was a recipient of a MacArthur Foundation fellowship in 2010 for his work "forging a new, multifaceted role beyond the concert hall for the twenty-first-century musician." Community MusicWorks offers four two-year positions to young professional musicians looking to gain a deeper understanding of the CMW model.