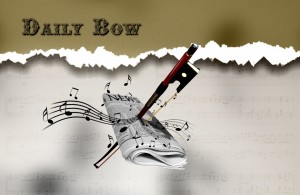 Earlier this month Gustavo Dudamel was named musician of the year by Musical America.
"Rarely has a young artist captured the public fancy so completely," Sedgwick Clark, editor of the Musical America Directory, said in an article on the Musical America website. Clark said that Dudamel's selection was sealed as far back as 2011, when it became known that Carnegie Hall was planning a Voices from Latin America festival for the fall.
Read the full story – Gustavo Dudamel named musician of the year by Musical America
Such an announcement could hardly come as a surprise considering Dudamel's breathtaking performance as a conductor: his "captivating theatrics" have been said to enhance the musical experience for both performers and audience.
Watching Dudamel trace parabolas in the air with his baton, sometimes with body English, sometimes with concentrated stillness, is a singular theatrical experience. Whenever a visiting theater-lover asks for recommendations from me, I invariably suggest a trip to Disney Hall or the Hollywood Bowl if the Venezuelan maestro is in session.

…

Dramatic gestural flourishes and intense emotive expressiveness are pretty much guaranteed. Depending on the piece he's conducting, Dudamel's performance can also feature quite a bit of spontaneous choreography. His South American style absorbs rhythm corporeally, but he never falls into showboating. He puts himself — heart, mind and body — at the service of the music.
With Dudamel it is not simply his technical and musical capabilities, or even his still-astonishing youth, but rather the passion and commitment he has brought to the front lines in the struggle for improving access and quality of music education that continues to impress fans, commentators, critics, and observers. This seems almost reflected in his increasing presence in the mainstream news as of late. Earlier in November we also reported about his involvement with the "Voices from Latin America" series at Carnegie Hall. That series is evolving into an international spectacle with the announcement that Dudamel and Carnegie will welcome the dynamic Simon Bolivar Symphony Orchestra of Venezuela next month in December, part of the orchestra's tour of five American cities.
This North-American tour starts at November 28th in Berkeley University, CA, when for 4 days the Venezuelan musicians will participate in a residence with seminars, master classes, chamber music concerts in schools and communities of the city and two more concerts -November 29th and 30th — at famous Zellerbach Hall, with its 2000 people capacity.

The 3rd concert will be on December 2nd, at Chicago Symphony Center -the Chicago Symphony and Symphoniette's official home-. Then, the Concert Hall at Kennedy Center in Washington Dc, will receive the Simón Bolívar Orchestra on December 4th with its 2442 sold-out tickets for this concert. The Kimmel Center for Scenic Arts -the Philadelphia Orchestra place- will be the next stage for the fifth concert on December 5th.

The arrival to New York, on December 6th, coincides with the Musical America Awards ceremony, presented to Gustavo Dudamel and José Antonio Abreu as "Musician of the Year" and "Educator of the year", respectively.

The Venezuelan participation in "Voices from Latin-America" festival at renowned Carnegie Hall, starts on December 7th with Venezuelan Brass Ensemble's concert, under the direction of Thomas Clamor. On December 8th, SBOV's members will perform a chamber music concert, debuting with 4 pieces from the composers: Gonzalo Rubalcaba (Cuba), Danilo Pérez (Panamá), Enrico Chapela (México) and Esteban Benzecry (Argentina). Those pieces were commissioned by the Carnegie Hall specifically for the occasion.

…

This is Simón Bolívar Orchestra's third Tour of the United States. The first time was in autumn, in 2007, with sold out concerts in LA, San Francisco, Boston and New York -in including their first time at Carnegie Hall- where the orchestra was conducted by Gustavo Dudamel and Simon Rattle as part of "Berlin in Lights' program". In January 2012, SBOV had a 3 week-residence in Walt Disney Hall and joined to LA Phill for the Mahler Project, led by Gustavo Dudamel, which included 16 concerts between LA and Caracas and the 9 Gustav Mahler's Symphonies.
More from Gustavo Dudamel
More stories from the classical music world