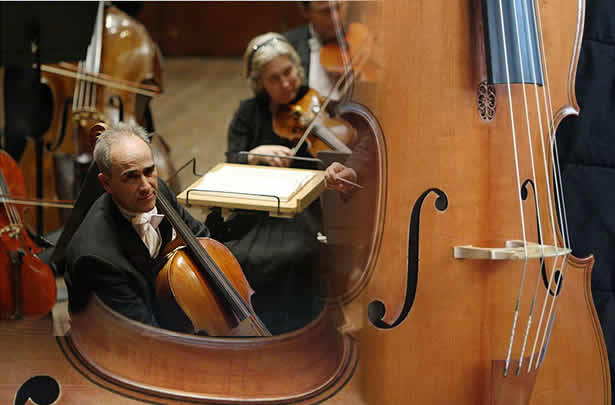 This week one of Ovation Press' own editors will mark a significant item off of his list of professional "to-do" list as a cellist by performing the entirety of the Bach Cello Suites as a complete set. Carter Brey, Principal Cellist of the New York Philharmonic is scheduled to give two concerts: Wednesday March 27 and next week on the 1st of April.
Both of these concerts have been sold out all month, with a constantly growing waiting list of names. This is not surprising at all considering Mr. Brey's highly-acclaimed status. He has held the post of NY Phil's Principal Cellist since his appointment in 1996. He made his debut as a soloist with the orchestra in May of 1997 with Tchaikovsky's Rococo Variations under Music Director Kurt Masur.
Since then he has cemented an awe-aspiring performance record that includes the Elgar Cello Concerto (with André Previn conducting), William Schuman's A Song of Orpheus (with Christian Thielemann conducting), Richard Strauss' Don Quixote (with former Music Director Zubin Mehta conducting), and the Brahms Double Concerto (with Christoph Eschenbach conducting and Glenn Dicterow as Concertmaster).
With all of this repertoire under his belt, this will be the first time that Carter Brey performs the complete set of Bach Cello Suites. Ticket sales don't lie: it's obvious that audiences are very interested to see him perform these staples of the cello literature.
However, just as exciting as the way in which Mr. Brey will grace the ears of listeners on Wednesday is the instrumental setup he will have with him. He will be performing the cycle using two cellos outfitted in the style of Baroque instruments. Mr. Brey has also been performing on a cello with a Baroque setup during NY Phil's orchestral program "The Bach Variations: A Philharmonic Festival," which started at the beginning of March and runs through April 6. The premier of Brey with the complete Cello Suites is part of this series.
The two Baroque-style cellos that Carter Brey is using were made by luthier James McKean, who has been a major force in the legendary craft for over three decades. McKean learned from some of the greatest sources of education in the world of violinmaking, including Vahakn Nigogosian whose shop was a destination for some of the world's finest musicians.
The Nigogosian shop afforded him (McKean) the opportunity to study and work on some of the rarest and most celebrated antique instruments. Equally important, though, was being able to learn the fine points of sound and set up from Nigo, one of the world's acknowledged experts in realizing the full potential of instruments, antique or contemporary.
James McKean wrote to us earlier in the month about Carter Brey and the cellos that he would be performing the Bach solo Cello Suites with:
He (Carter Brey) will be playing on two of my cellos — for the first five, a classical four-string, set up in Baroque disposition. For the 6th, though, he'll be playing on a five-string cello that I made for him so that he could perform it as originally written. For me, as a maker, in order to get a clear mental image of the cellos before beginning construction, I asked him to talk about the suites and his interpretation.
In the two videos below Mr. Brey reviews the history of the score of the Suites, as well as the evolution of his concept from the traditional Romantic performance to one that incorporates historically informed performance practices. The videos include demonstrations of specific passages that employ the cello in a "Baroque disposition," with a matching bow.
Also, check out this video below which shows a live performance of Bach Cello Suite No. 5: Prelude by Carter Brey.
We've been extremely fortunate to have Mr. Brey as a contributor to our scores at Ovation Press. Stay tuned for another follow-up piece next week when one of our contributors will go into more detail about the McKean-Brey story, the instruments that Mr. Brey is performing on, and the topic of period performance.
In the meantime, you can learn more about Carter Brey and his scores at Ovation Press by visiting his editor profile.