In the continuation of our interview with Stephen Geber, we expand off topics addressed in part 1. Having discussed young musicians entering positions with professional orchestras, Mr. Geber shares his thoughts on different aspects of playing in orchestral music as a career, including bowings and the interaction among different members of orchestras.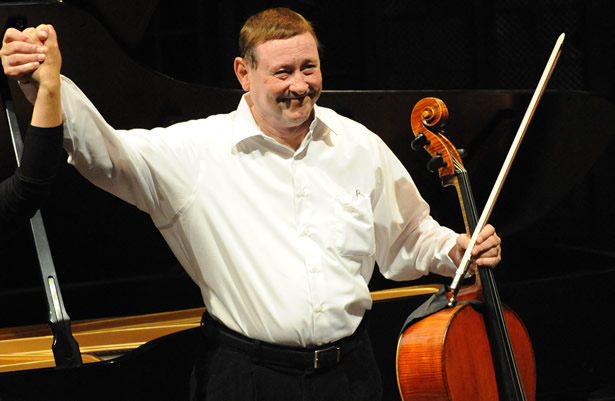 Ovation Press: How important are excellent bowings in orchestral parts?
Stephen Geber: Extremely. This is a concern that a lot of orchestral musicians have. So much time is taken up with corrections or erasing or marking bowings in rehearsal. We usually only have four or five rehearsals a week, sometimes only three to prepare two or three concerts, and if you spend a lot of time having to make bowing corrections, it can be difficult and takes up a lot of needless time.
Ovation Press: How do you avoid spending time at rehearsals on bowings?
Stephen Geber: Well, I think it's a two step process. Number one, you must have five principal string players who are willing to sit down and collaborate with the bowings in advance. Secondly, you need a good librarian who makes the part legible and clean and transfers the bowing decisions made by the principal string players.
Ovation Press: How greatly have conductors affected the orchestras in which you have played?
Stephen Geber: I've been fortunate to be a member of the Cleveland Orchestra and the Boston Symphony and in both cases these orchestras were always brought to the highest level by certain musicians and personalities, but they both consistently played on the highest level in part due to their extreme pride with each other. In Cleveland the orchestra played in spite of the conductor who was in front of us sometimes. Naturally, you're occasionally going to have a guest conductor that is just not a good fit, but that pride is still there. Fortunately, during the period that I was a member of the Cleveland Orchestra, I had the privilege of working with not only some really outstanding guest conductors, but most importantly music directors. They brought the very best out of the orchestra and the orchestra played for these people. That pride, caring, and musical integrity seemed to move on into the concerts with guest conductors regardless of who they were.
Ovation Press: Do conductors ever ask for ideas from the orchestra members?
Stephen Geber: It works both ways. A really attuned and sensitive music director will turn to a particular section that he might admire and say, "now, how did you do this" or "this seems to be difficult maybe in another orchestra. How did you do it here so well?" Also, I think conductors who are able to sing a phrase and express it in vocal terms rather than speaking terms communicates their intention in a more meaningful way.
Ovation Press: What do you think have been the biggest changes in orchestras over the years?
Stephen Geber: Well, I think there are a lot of changes. The seasons have become more demanding because of the financial and economic situation. More concerts are scheduled with more diversified programming and more touring has been expected of the orchestra members. I think that's good. Orchestral players in most cases now are able to have very good livable income and also enough time to further their musical interests with chamber appearances.
Ovation Press: What kind of interactions and coordination occur with the other principals in the orchestra and the concertmaster?
Stephen Geber: It's like a string quartet, and I was very fortunate to come into an orchestra where the principal players of the orchestra had a string quartet. I'm sorry to say that two of those players are deceased now but we had a very viable and active string quartet for 22 years of my career with the Cleveland Orchestra.
Ovation Press: How important is chamber music experience for orchestral musicians?
Stephen Geber: It's important for all musicians. Chamber music embodies all the qualities that we hope to attain in our orchestral performance: sensitivity, rhythmical and technical issues such as intonation, good ensemble playing, poise in performance and team collaboration. If you can do this with three, four or more players successfully, it only enhances your playing as an orchestral player.
Ovation Press: Were you able to maintain an active chamber music ensemble during your orchestral tenures?
Stephen Geber: I had the quartet in the Boston Symphony for 8 years and then 22 years in the Cleveland Orchestra, and the experience of working with these people has stayed with me for years and years. Although two of the players in the Cleveland Orchestra quartet are deceased now, their qualities and integrity have stayed with me as an inspiration to me and something I try to pass along to my students. I hope I'm doing that successfully.
Ovation Press: Would you share a couple of the most memorable or funny moments in your orchestral career?
Stephen Geber: Oh, my goodness! I think one of the greatest times I've ever had is when we had Danny Kaye the famous comedian come and do some acts in concerts with the Cleveland Orchestra. He was just so funny that I lost it. I just absolutely had to stop playing and I almost dropped my cello…it was so funny. Of course, he made a parody of it as well. He picked up on that right away and had me in front of the audience and all I was doing was laughing. I won't go into graphic details but it was a very memorable evening working with really the best of the best. He was like a Jack Benny–the same generation. And as far as memorable, the beautiful music making, the incredible concerts over a career that has spanned 42 years…I don't know where to begin.
Ovation Press: Do you have any final comments for aspiring musicians?
Stephen Geber: Keep the faith. If you really wish to succeed in music you have to first believe in yourself and also be honest with yourself. I think that would be the only thing I try to embed with my students now. To make sure they understand that they have to be totally honest with themselves.
We hope you've enjoyed this interview with Stephen Geber. To see a complete listing of his music with Ovation Press visit his editor profile.