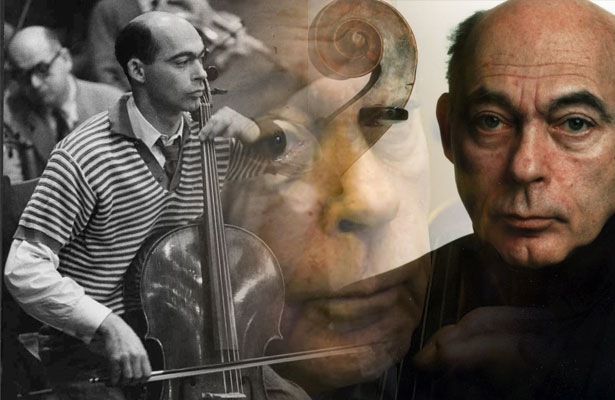 The music world saw the passing of a giant this past weekend as legendary Hungarian cellist Janos Starker died on Sunday at the age of 88. Starker's presence in the music community was so great and so extraordinary that to try to remember him in writing is almost an impossible task. The course of his life leaps off the page as if written into a movie: child prodigy survives Nazi concentration camp to find world renown as a cellist through hard work, talent, and extraordinary resilience. Despite the dramatic events of his life and the exceptional nature of his success, Starker's legacy is one that truly is and always has been about the music.
Starker was born to Jewish parents in Hungary in 1924 and was given a cello before his sixth birthday. He made quick work of learning the cello, giving his first public performance at the age of six and entering the Franz Liszt Academy of Budapest the next year. He debuted in performance at the Academy at age 11 and made his professional debut at the age of 14. Coming of age as he did in troubled political times, Starker's early career encountered the most harrowing of setbacks: he and his family were sent to a Nazi concentration camp for three months during World War II. He and his parents survived, but his two violinist elder brothers did not. After being released from the camp, Starker worked his way to Paris as an electrician and a sulfur miner–but he released his first recording in that same year. That disc, the 1946 recording of Kodaly's Solo Sonata, met with great success, winning a Grand Prix du Disque and putting Starker into the international eye. Of his brush with death in the concentration camps, he said, "I had very little chance of surviving WWII. And when I survived it, I said I should make it justifiable why I stayed alive."
He did so with unbelievable vigor, arriving in the United States in 1948 and quickly rising through the ranks of American orchestras, including the Dallas Symphony, the Metropolitan Opera, and the Chicago Symphony. He felt that his calling, though, was as a teacher, and he left his orchestral life to pursue a career as an international soloist and teacher. "I've been caught confessing that basically I was born to be a teacher," he said. "People question the validity of it, because I played all those 3, 4, 5,000 concerts in my life. But the fact is, I think I was put on earth to be a teacher."
To that end, Starker joined the faculty of the Indiana University School of Music in 1958–where he remained until his death. To enumerate his playing and teaching achievements is an almost insurmountable task: Starker played all of the greatest repertoire with all of the great orchestras, recording much of it, and shaping the face of modern cello-playing with his technique books and his teaching. To all living cellists, Starker was a universal presence in our lives, and that in itself speaks to an extraordinary generosity of character. Not content to preach his musical gospel from a stationary pulpit in Indiana, Starker traveled the world to teach students everywhere.
Nor was he a man of frothy, intangible musical ideas that do little to help the players on the ground: he was a musician of exacting standards with a strong sense of pragmatism that pervaded his approach to teaching and to playing–his was a masterclass that left every participant and audience member alike humming with ideas that they would take home and try immediately, and they would work. His colleague and friend Menachem Pressler said of him, "His standard was very, very high. But he was a perfectionist, so during performance he was very concerned with perfection — and he was perfect."
Starker's dedication to excellence–to perfection–rendered him both a beautiful player and a demanding and effective teacher. No metaphorical nonsense, no frills, no hysterical showmanship: Starker's teaching was lean and focused, practical but utterly musical, just like his playing and just like man himself. That quest for perfection was no empty technical ambition: it was rooted completely in the service of the music, and it is this service to music that has inspired generations of modern cellists–and will continue to inspire future generations for years to come.  It is simply impossible to imagine a world without Janos Starker. Thanks to his unflagging, tireless work as a teacher and his vast catalog of brilliant recorded performances, there will never really be a world without his indispensable presence.
To share your remembrances of Professor Starker, please visit the following memorial site at the Jacobs School of Music.