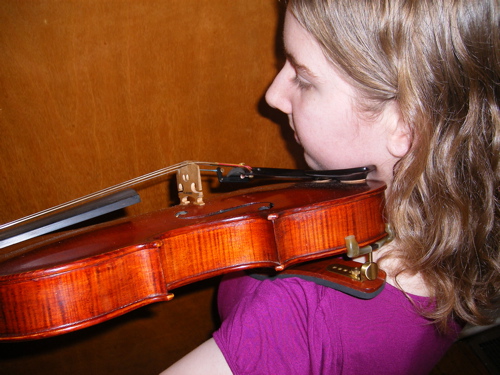 Finding the Perfect Setup for Violinists & Violists
In part 1 you learned about general setup concerns as well as setup issues unique to cellists and bassists. Now it's time to find out all about setup issues for violinists and violists! As a violist myself, I have spent countless hours examining different chinrests and shoulder rests in my search for a comfortable setup. It is important to find the right combination of setup equipment to hold up a violin or viola, since the weight of the instrument must be supported on one side of the body. Some violinists and violists use a chinrest and a shoulder rest, while others use just a chinrest, or a chinrest with a shoulder pad. There are arguments behind each of these approaches, which I will not go into in this article, but the important thing is to find what works for you.
Finding the perfect setup equipment is crucial to developing a natural hold of the instrument, but is often difficult using commercially available chinrests and shoulder rests. To create an ergonomic system of support for the instrument, a player's setup must be individualized to their particular body type.
In Principles of Violin Playing and Teaching, Ivan Galamian makes the important point that there is not any "one" place to hold the instrument. It must be positioned in a way that allows "a comfortable and efficient execution of all playing movements." [1] Creating a setup framework in which the instrument can be mobile, instead of having a single fixed position, can encourage movement and eliminate tension. In "The Importance of Setup," Julie Lyonn Lieberman states:
Many players search for one 'correct' position and then faithfully maintain it for thousands of hours each year. I prefer to take a tai-chi approach, searching for a frame and support system in which the body has the flexibility to breathe by making constant, minúte changes in position. [2]
By creating a loose framework within which to hold the instrument, instead of searching for one "perfect", static location, the concept of movement and fluidity become ingrained into the act of playing. The perfect setup, ultimately, is the combination of supports – be it a chinrest alone, or with a shoulder rest or pad – that allows the most comfortable range of motion for that particular player. The chinrest and shoulder rest should allow the instrument to exist at such an angle that allows the full function of both sides of the body.
According to Isaak Vigdorchik, author of Violin Playing: A Physiological Approach, "If the chin rest is properly fitted and adjusted, the chin and jaw bone should enable the player to hold the violin with comfort and security." [3]
Vigdorchik recommends the use of custom chinrests, as do Lynne Denig and Gary Frisch in "Chinrest Choice Based on Jaw Type." Denig and Frisch argue that the chinrest should match the shape of the player's jaw, which can be difficult with available commercial models. Ideally, each player should have a chinrest custom-made to fit the contours of their particular jaw. Denig and Frisch have developed setup kits with a variety of chinrest "toppers", which are essentially custom-contoured chinrests, and "lifts," which are blocks of wood of different heights that can be easily attached to the chinrest to fit the needs of the individual player & the length of their neck. [4]
However, as Lieberman points out, much can be accomplished with a bit of sandpaper and some sanding tools. Basic, commercial prototypes of chinrests can be adjusted, both in height and in contour, to fit the individual player. This method requires persistence on the part of both teacher and student, as it may take numerous tries to get the chinrest to fit right, but it is well worth the time and effort. For some players, these slight adjustments to commercial chinrests are enough to begin playing more comfortably. For others, however, a custom, hand-carved chinrest may be required.
Either way, once the chinrest with the appropriate contour is selected, height can be added to the chinrest to close the distance between the player's chin and shoulder. Most luthiers or violin shops can add a block of wood to a regular chinrest once the necessary height is determined by you and your teacher. By adding height to the chinrest, instead of the shoulder rest, the instrument can sit lower and closer to the player's body, so that the right shoulder does not have to be raised as high to reach the lower strings of the instrument.
Peter Purich, a setup specialist in Montreal, QC, also listens to the sound of the instrument to help determine the best setup for each player. The positioning that allows the player to be most relaxed also creates the best tone and projection. When the player can play with minimum strain and effort, and does not have to maintain one static position, this affect is amplified. By listening to when the player's sound is most open and full as they try out different chinrests and shoulder rests, Purich can determine the best setup for that particular player. [5] This method of observing sound quality changes while evaluating setup equipment is a great way for players to find comfortable setups, even without the guidance of a setup specialist.
In Summary
Playing an instrument requires a great deal of physical acuity, strength, balance, and endurance. Finding the perfect setup is a way to play comfortably, as it is particularly challenging to do so if the instrument is fitted incorrectly or ineffectively supported. To address setup concerns unique to your instrument and begin to play more comfortably, it is essential that the setup process becomes customized for the individual player.
Coming up next: "The Feldenkrais Method and Alexander Technique". Tired of chronic pain? Want to learn how to play more fluidly? Find out more about Feldenkrais and Alexander Technique, two methods of movement education commonly used by musicians and other performing artists.
[1] Galamian, Ivan. Principles of Violin Playing and Teaching. Englewood Cliffs, NJ: Prentice Hall, 1962.
[2] Liebermann, Julie Lyonn. "The Importance of Setup." STRINGS Magazine, 14.8 (2000): 40-2.
[3] Vigdorchik, Issac. Violin Playing: A Physiological Approach. New York: Nataly Vigdorchik, 1989: 40.
[4] Denig, L. & Frisch, G. "Chinrest Choice Based on Jaw Type." American String Teacher. Feb. 2007: 46-52. To see their custom-fitted chinrests visit http://www.chinrests.com.
[5] Purich, Peter. Personal communications: Montreal, Quebec, June 2006.
Other sources include:
Richardson, Brianna. "Searching for the Perfect Setup: An Investigation of Different Methods of Support for Violinists and Violists," [Honors Thesis]. University of Puget Sound, Spring 2009.
Rolland, Paul. Basic Principles of Violin Playing. Reston, VA: American String Teachers Association, 1990.