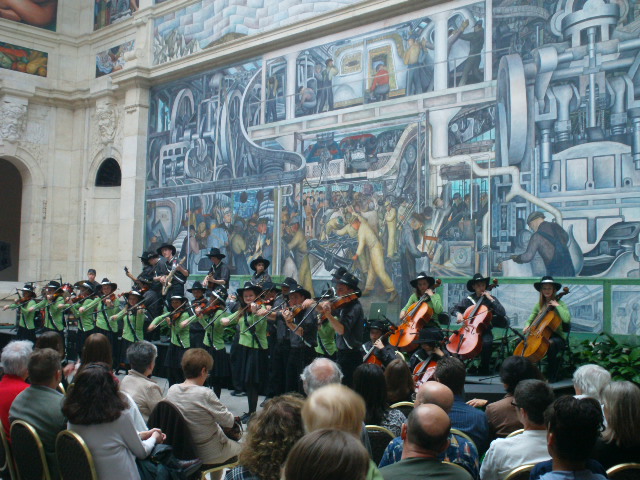 Last month in June while I was attending a conference, I had the opportunity to stop by the Detroit Institute of Art. Their museum is famous for the Detroit Industry fresco cycle by Mexican muralist Diego Rivera (1886–1957), paying tribute to the city's history as a center for manufacturing and labor.
Wandering into the great fresco hall, my companions and I were greeted by a symphonic chorus of fiddles! The Saline Fiddlers were performing a show that night, and we were fortunate enough to be able to listen to them.
Yesterday we announced our acceptance into the Citizen Musician initiative. Because of the purpose and values behind the Saline Fiddlers, it is also very fitting that we cover them, American's premier youth fiddling showband.
At String Visions, we explore many topics, but among the most important is the power of educating and empowering people through music. The Saline Fiddlers may not be a strictly classical ensemble, but they are a perfect representation of visionary musicians, having set an incredible standard for youth extracurricular programs in the United States.
The group began with a simple idea: introduce an alternative style of music education to public school students. It has grown into a model of instruction and motivation that is being emulated across the nation. Yet more importantly, it is a brilliant example of what young adults can and will achieve if given a direction and the opportunity to explore, and pursue their own interests.
Below is a montage video which I put together highlighting different parts of the Fiddlers' concert.
As a non-profit music and performance education organization, the Saline Fiddlers have had to create and market their own brand, something crucial for any aspiring musician in today's world. Their alternative approach to music education gave rise to a unique trademark that has paved the way for professional recordings and sales, as well as widespread performances on a national and international scale. Those involved with the Fiddlers understand the value that they have on the greater community, and indeed the organization heavily promotes community service through music.
More on the Saline Fiddlers from their website:
The Saline Fiddlers (under the directon of Artistic Director Ben Culver) represent the positive side of today's youth while reflecting the rural traditions of Saline, Michigan and ultimately the country. The performers, all students at Saline High School, earn their places through competitive auditions based on musical ability and personal integrity. Each Fiddler balances academics, sports, school organizations, church activities, jobs and social lives with this demanding commitment to music.

The Saline Fiddlers' history includes more than 1000 performances all over the United States and several foreign countries. They have been honored to perform three times at the White House and twice on the Millennium Stage at the Kennedy Center, as well as at the State of Michigan's Presidential Inaugural Ball in January 2001. The Fiddlers have shared the stage with many top artists as well as other student groups. Especially gratifying is the number of student fiddle organizations, which have started around the country inspired by the Saline Fiddlers. The Saline students look forward to sharing workshops and concerts with these new fiddle ensembles.

The Fiddlers' tours have spanned the United States from the east coast to the west coast, down south and up north, as well as several trips abroad. In the summer of 2009 the Saline Fiddlers toured Germany, including Saline's sister city Lindenberg im Allgäu, and gained many new European fans with an appreciation of this very American style of music. Recent domestic tours have included New York City, Boston, California, Nevada, Florida, southeastern states (where Bluegrass was born) and many other places where the Saline Fiddlers have positively changed people's lives. The summer of 2006 took them to Mississippi's Gulf coast, where they gave a series of hugely-appreciated benefit concerts for storm-weary residents and relief workers from all over the country. The Saline Fiddlers maintain a year round performance schedule, averaging 80 performances each year.
Designed and implemented as a supplement (not a replacement) to daily orchestral instruction, the Saline Fiddlers rehearse once a week, tours yearly, and releases recordings every other year. "By offering students an organized opportunity to explore alternative styles (fiddling, Celtic, jazz, pop, etc.) on their string instruments, our students' playing chops have grown tremendously and their views of the music scene and their own access to it are much more comprehensive," said Artistic Director Ben Culver. "Our students have played Beethoven and Bill Monroe, Dvorak and Michael Jackson, and have the experience and skills to design, put together, and present their own events."
In 17 years of operation the Saline Fiddlers have graduated 142 members, 19% of whom have gone on to make careers in music as performers or teachers. While most of the alumni have achieved wide success in non-musical occupations, perhaps most impressive is that 49% still play music as an avocation.
As a bonus, here is an arrangement of something I'm sure you'll recognize.
Thanks to Saline Fiddler's Event Manager Priscilla Olsen for some of the source material