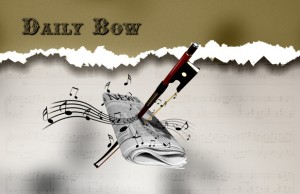 I realized that in the process of writing this article, I was going to have to come clean about an embarrassing guilty pleasure of mine, so let's get that out of the way first. I'm a closet Dancing with the Stars fan. It's television escapism at it's embarrassing best. Usually my enjoyment of this show is not relevant to any of my real life as a classical musician, but I've been increasingly unable to ignore something about the show that is symptomatic of a real, insidious problem with the representation of classical music in the media, and the classical musician in me is no longer able to have a stress-free vacation while the show is on. Every year, Dancing with the Stars has a "Classical Week," in which the show assembles a pick-up orchestra and the contestants dance to what the rest of America thinks is classical music. The current season features a contestant named Katherine Jenkins, a Welsh crossover singer who is billed as a "classical singer" and an "opera singer." While I was once able to turn off my inner musician and happily zone out and join the other masses of Americans in simple entertainment, I find myself pretty irked at what the public will accept as classical music: Mannheim Steamroller-esque riffs on Beethoven 5. Now, with a dearth of real ambassadors from the world of talented, respected classical musicians, we as a community are increasingly represented by crossover artists who have no real credentials or talent in the classical sphere, and it seems that the art form is destined to survive in their hands.
It turns out that I'm not alone in my worry. Only minutes after finishing my delayed viewing of Monday's Dancing with the Stars finale, I read Philip Hensher's editorial piece in The Independent. The article, entitled "Will Nobody Mourn the Death of Classical Music," is headed by a picture of Katherine Jenkins, chosen to symbolize the slide of classical music as the outside world understands it from a highly skilled art form to a flashy, Reader's Digest-style reduction of what it really is. Hensher's piece opens with him recounting how his delight at hearing Beethoven's Seventh Symphony over the loudspeakers at a train station quickly turned to dismay when a friend told him that it was being used as a deterrent: classical music is proven to disperse crowds, thereby discouraging loitering and possibly unsavory activity in public spaces. The London train station in Hensher's anecdote is not the only one to do this–it's so widely used that "classical music deterrent" is actually one of the suggested search terms when typing "classical music" into the Google search field. Hensher's enjoyment of his commute was deflated immediately: "Beethoven 7 was being played, not because it would give innocent pleasure to passers-by, but because people, on the whole, could be relied upon to loathe it."
Hensher asks a question that we as a community need to deal with:
Even 20 or 30 years ago, the great history of art music was something of general interest and respect. Now, it has turned into, at best, a specialist interest, and at worst something to move people along rapidly in a public place. Are we seeing the end of art music? Is our generation the last that will see it as anything but a remote and specialised interest in this country?
And he's speaking from the United Kingdom. The situation in the United States is perhaps even more dire. It's no secret that classical music is not much in the public consciousness–hence the concert series with increasingly elaborate bells-and-whistles attached, begging audiences to come and redefine their ideas of classical music. More disturbingly, though, when it is in the public consciousness, it's represented poorly by crossover artists who are only understood to be crossovers by the classical community. Increasingly, in the public's view, these artists are the real thing. And that view looks like this: a high school orchestra staple presented as a virtuosic, real piece of music. The BBC's Young Musician of the Year competition, which in former years has featured talent on the level of brilliant pianists Barry Douglas and Stephen Hough, has taken on what can be termed the Dancing with the Stars aesthetic. The performance level remains high and of the utmost quality, but the focus isn't necessarily on the music. Says Hensher, "It used to go on for weeks; now, it is limited to the section final, semi-finals and final. The presenters feel able to talk over some of the performances. The musical performance comes second to human-interest stories these days and the question, 'How did that feel?'."
Hensher's article talks about what no one in the classical music world wants to talk about. In an effort to get the general public interested in classical music again, classical music is going to great creative lengths, and this is already an age of unprecedented growth, quality, and ability–eleven-year-olds are now playing with the same kind of technical acumen as seasoned professionals from generations past. But even as classical music forges ahead and reaches new heights, very few people outside the community of musicians themselves are taking notice:
What does it feel like to be in the dying days of an art's appreciation? Very much like this. There have probably never been as many marvellous exponents of the art as there are now. We are living through a golden age of refinement, ingenuity and freedom among composers. But who is listening?

I can't remember a more brilliant Proms season than the one just announced – the Berlin, Vienna, Leipzig orchestras visiting in quick succession. There is a week in which all Beethoven symphonies are confronted with the most recent major works of Pierre Boulez, played by the most recently founded of great orchestras, the West-Eastern Divan orchestra. There are dozens of other amazing concerts. At the time of writing, a week after booking opened, 16 out of 75 proms have sold out. That is impressive by the standards of classical music. By any other standards, it shows an art in steep decline….The art seems likely to survive in the hands of bad practitioners. There is now something called an opera singer who has never, and could never, sing an opera on a professional stage. There is now so much more of an audience for so-called "classical crossover" artists, giving a traduced idea of a Rossini aria, than ever before. There is space on television for people who can't conduct and can't sing – Maestro and Popstar to Operastar – but not for people who can. Soon, we will be asked to admire a pretty girl playing a first-month piano exercise with elaborate orchestration behind her. The art acquired over a lifetime will be sought out for admiration by a diminishing few.
Hensher's article is one that takes a gloomy view of things–classical music is dying, Hensher says, and he will miss it, but "in a hundred years, no one will. It will be incomprehensible, dead, and gone, and very few people will care."
Although I agree with Hensher's assessment of the direction of classical music's representation and public esteem, I don't agree with his bottom line. That's not how this story has to end. He's right: the situation is a serious one for classical music. It's lost its foothold as a bulwark of culture in a pretty serious way. Hensher offers the legacy of the celebrations at the Berlin Wall as an example: "Something happened between the fall of the Berlin Wall and its 20th anniversary. The first occasion was marked by Bernstein conducting the Berlin Philharmonic in Beethoven's Ninth Symphony. The second was marked by a band called Tokio Hotel."
We can all agree that this is not the direction we'd like to see the art form going. Similarly, we can all agree that Hensher is right when he says that "We just lost our cultural confidence at some point. Music in school hasn't been focused on understanding the classics for years. The idea that everyone can and might enjoy art music, if they're exposed to it, has been abandoned." In fact, perhaps Hensher is more right than we realize. The big public-relations campaign that classical music has embarked on is heavy on the light-shows and the gimmicks, but light on respect for the audience's potential. It seems that people forget that, if an event is billed as classical music with bells and whistles, people are going to remember the bells and whistles–not the music. While a light-show might bring people in, and people might incidentally remember the music, it's the experience that they remember, not necessarily a new-found affinity for classical music.
Sadly, due to the nature of the economy and the music business now, the primary goal of many musical organizations is putting bodies in seats–not necessarily creating new music lovers who love music for its own sake. This is where the short-term strategy of "redefining the classical music experience" gets dicey. The DJ's, the singles mixers, the light shows, and the crossover material may be something of a short-term solution. The long-term solution needs to be focused on creating a real, enduring love for classical music–the kind of love that stays when the sexiness and slick packaging isn't there. To do this, we need to be honest about who we are and what we do. We're classical musicians. We're not rock stars. This isn't pop music. And that's okay. It's more than okay. This is beautiful, meaningful music, and it speaks to us–and it's how we speak to other people. This music has survived for centuries as it was when it was written because it has a universal, real, visceral appeal, and because, until recently, it was taught as part of our common human heritage. If we trust audiences to be more than we think they are–more than easily-distracted lovers of shiny objects and flashy packaging–they will rise to our hopes. So many of us have seen it with our own friends, the football players who come to a recital because they're your friend, but who leave excited because Suite Italienne was super-awesome or that Beethoven sonata was so beautiful. Ask people to listen, don't trick them into hearing.
Most people, when meeting someone they discover to be a classical musician, think it's cool–they're genuinely intrigued, and when people see an instrument being carried anywhere on the street, the first question is, "Are you going to play for us?" People love classical music–that's why Dancing with the Stars has a "Classical Week." Or rather, they love what they think is classical music. But what they love about what they're getting are the same things they would love about real classical music–the passion, the intensity, the artistry, the elegance and sophistication–and in some cases, the challenge. It's not what they listen to every day, and that is sometimes part of the appeal. That's what people seek out when they seek out "classical music," but, with few people stepping up from the real classical community, crossover stars are filling the gap. There's a chronic concern in the classical community that what we do is intrinsically uncool, but we're usually the only ones to label it like that. All of the smoke and mirrors we use to make it "cool" sometimes do the reverse. We're so busy trying to make it cool and relevant that we're often highlighting our own image of classical music–we're worried that we come across as nerds, but it's not high school anymore. People are so much more interested in different things than we give them credit for, and that includes classical music. Take it from this year's "Classical Week" on Dancing with the Stars: Joshua Bell performed The Four Seasons, and the ballroom full of screaming fans loved it. Turns out, Vivaldi wasn't too nerdy for them.
Maybe it's time to add a new approach: give the audience some credit, and give our schools some music–give everyone, adults and children, the chance to love music for what it is, and they will. Some won't fall in love, but others will, just like happened to all of us. There's a time and a place for all of the crossover, genre-bending music that's going on now, and when it's done well, it enhances the base of classical music well. But here's the thing: we will never succeed at being rock stars–rock stars are rock stars, and they're better at it than we are because they're the real thing. We're classical musicians. It's a different game. And we're better at it–because we're the real thing. It's time to be okay with who we are and what we do, and to be proud of it. Maybe this way we won't need to worry about who's going to mourn classical music, because it'll be alive and well.