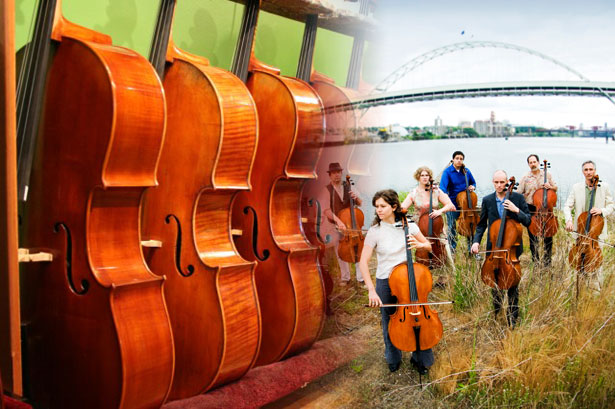 Last November we ran a story on the Portland Cello Project, a cello-only ensemble that is famous for its genre-blending and extravagant performances. Since their inception in late 2007, this ensemble (affectionately called PCP by fans) have brought an "indie music sensibility" to a commonly strait-laced classical orchestral instrument.
Since we have been expanding our catalog of cello ensemble scores – most notably with a large set of new arrangements from editor Stephen Watkins and renditions of the Renaissance master Josquin by Charles Jacot – we wanted to take another look at the organization, especially considering they were just in our backyard of Chicago last week!
The group's repertoire spans classical masters such as Beethoven, modern composer Arvo Pärt and "music you wouldn't normally hear coming out of a cello," says the group's Web site, Portlandcelloproject.com. Those include cello-centric interpretations of music by Jay-Z and Britney Spears. The group's new album, Homage, is a collection of reinterpretations of hip-hop songs by artists including Kanye West and Lil' Wayne.

Name an artist, and the Project might be able to play one of his or her songs. The group boasts that it has more than 900 pieces to choose from, and no two shows are the same.

…

The Portland Cello Project started with similar magic six years ago, Jenkins says. A group of classically trained cellists who had additional interests started getting together.

"We all played other kinds of music, like bluegrass to folk music, and there was even, like, a punk rock girl," he says. (Zoe Keating of cello rockers Rasputina had moved to Portland about that time and was part of some early incarnations of the Project.) "We were getting together in friends' living rooms, just to play classical music, and then we said, 'Why don't we play classical music in bars?,' because people were doing that, like Matt Haimovitz playing at CBGB's and stuff. We said, 'Why don't we do that in Portland? Maybe it would work.' So we did. … And it kind of became what it was."

The first few shows were classically geared, but then they started inviting friends, including folk singer Laura Gibson and indie folk band Horse Feathers.

"We kept branching out, and now it's much less classical and much more everything," Jenkins says.
On May 4th PCP graced the Chicago tavern of Schubas with a performance, interestingly-timed following the Classical Revolution conference the previous weekend, of which one of their primary focuses is bringing chamber music out of the concert hall and performing in alternative venues such as bars and clubs. Today they will be performing in Danville, Kentucky at the Norton Center with another cello pioneer from that area: folk cellist Ben Sollee.
"We have played with him here in Portland, but it'll be our first time playing with him east of the Mississippi," Jenkins says of Sollee. "The collaboration generally comes about like: One of us is coming to the other's town, and we send a text message, and then the other says, 'Sure!,' and then we don't communicate a lot because we're so busy, but then we show up and play together, and it's magical."
As a performing ensemble, PCP aims to not only bridge different musical genres but provide an access point into the market for contemporary classical composers by collaborating with them on premiering their works. Sometimes their work takes of the form of some "unorthodox" output, to say the least.
The cello ensemble is a beautiful yet less-frequently heard mix of instruments. From the publishing point of view, we have always been passionate about growing the body of arrangements and transcriptions for cello ensemble. That's why we are excited to see how such a dynamic organization as PCP is becoming increasingly popular.
Visit their website to learn more about the Portland Cello Project.