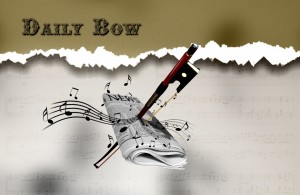 Classical music has often been used to tell a story. Whether that story was explicitly stated in the libretto of an opera or allegorically alluded to in a symphony, this music has a long tradition of bringing settings and characters to life, conveying the emotions, challenges, and resolutions of these fictional elements. The newest novel by author Gerald Elias continues that tradition, once again blurring the boundaries between music and fiction as art.
Death and Transfiguration is the latest book in Elias' series featuring the "irascible but loveable amateur sleuth" and violinist Daniel Jacobus.
Daniel Jacobus is a cynical violinist who is well known in the classical music world. He is a bitter old man who also happens to have a knack for solving murders.

Sherry O'Brien, a promising violinist, approaches Jacobus during the Tanglewood Music Festival. O'Brien is being harassed by Vaclav Herza, a well-known conductor who likes to destroy talented musicians. O'Brien is convinced that Jacobus can help her.

Jacobus turns O'Brien down and says her plight is useless. Shortly thereafter, O'Brien ends up dead. Having a change of heart, Jacobus decides to investigate O'Brien harassment claims. He becomes convinced of Herza's guilt and seeks to bring him down.

…

Jacobus is one of the most unique protagonists in the mystery genre. Blind old men are not often seen as the hero of a story. Nonetheless, the reader does not know whether to hate or love Jacobus. Despite his sarcastic personality, Jacobus shows great humanity as he tries to help people in the music community.

…

You do not have to be a lover of classical music to enjoy this book. Elias provides a glimpse of the classical music scene that is fascinating to those on the outside.
The main conflict of the story evokes both the traditional clash of good and evil from the classical genre and the intrigue and mystery of modern suspense & thriller dramas. Death and Transfiguration the novel also in some ways could be seen as a Elias take on the story behind Strauss' original tone poem, which depicts the death of an artist. Throughout the piece, this artist experiences recollections of his life – his childhood, manhood, and achievements. He becomes "transfigured" in the end and passes on, having received the "prize" at the conclusion of his life.
Elias' character Jacobus can be said to be of a similar nature, reflecting on his past and life. However, in contrast to the artist of Strauss' tone poem, what Jacobs faces is not his own death but rather his own life, and instead of transfiguration his prize is redemption.
Read the original story – Clever 'Death and Transfiguration' intriguing to mystery, music fans.
Ovation Press has published an exclusive edition of the bass part for Strauss' Death and Transfiguration by Paul Ellison. Check it out to learn more about this score:
Death and Transfiguration Bass Orchestral Part from Ovation Press