This is the first of two parts to an interview with Duo Philia, a Montreal-based duo comprised of violinists Caroline Chéhadé and Ana Drobac. As the second half of our multi-installment series revolving around the work of violinist, composer, and Ovation Press editor Helmut Lipsky, these two parts will explore both the musical lives of Caroline and Ana and their involvement in collaborating with Mr. Lipsky and recording his music. In the first part of the interview with Helmut Lipsky you got a glimpse of Caroline and Ana's playing through several videos, including their performance of Fiesta! shown again here (immediately below). Enjoy this interview with two fantastic and creative musicians!
—Colin Cronin, Creative Director
About Caroline Chéhadé: Hailed by La Presse as "a true violinist with a clear and complete technique and good sonority," Ms. Chéhadé is a grand prize winner in numerous solo competitions, including the Prix d'Europe. She has appeared as a soloist with the Orchestre Métropolitain du Grand Montréal, I Musici de Montréal and the Timisoara Philharmonic Orchestra in Roumania. Ms. Chéhadé graduated with the Prix avec Grande Distinction from the Montreal Conservatory of Music and holds degrees from the Manhattan School of Music and Mannes College. She has studied with Anne Robert and Lucie Robert. She performed for three years on the Windsor-Weinstein Stradivari of 1717 on loan from the Canada Council for the Arts. Ms. Chéhadé is dedicated to the musical and personal development of young musicians, inspiring them to find their own special relationship to their instrument. For Chéhadé, music performance is an expression of the soul and an offering of beauty and truth.
About Ana Drobac: Ana Drobac is originally from Belgrade, where she was a member of Chamber Orchestra St. George Strings. She moved to Canada in 2003 to pursue Master's and Doctorate degree at University of Montréal. Ms. Drobac, like Ms. Chéhadé, also studied violin under Anne Robert. She has performed with some of the premier orchestras and chamber groups including: YOA Orchestra of the Americas and members of the Amadeus String Quartet, Alban Berg Quartet, and many more. In 2010, Ms. Drobac was concertmaster of YOA Orchestra at a concert presented by Young Global Leaders of the World Economic Forum at Carnegie Hall under Carlos Miguel Prieto and Valery Gergiev. She has participated in numerous youth music education programs with the Peace Music Festival (Chicago) founded by YOA musician Deborah Wanderley dos Santos, NEOJIBÁ in Bahía Brazil, and Alfredo de Saint-Malo Festival de Música de Panamá, founded by YOA musician Isaac Casal. Ms. Drobac is currently a member of Orchestre Symphonique de Trois-Rivieres and Orchestre Symphonique de Laval, and she teaches students in an external program at Montreal Conservatory of Music.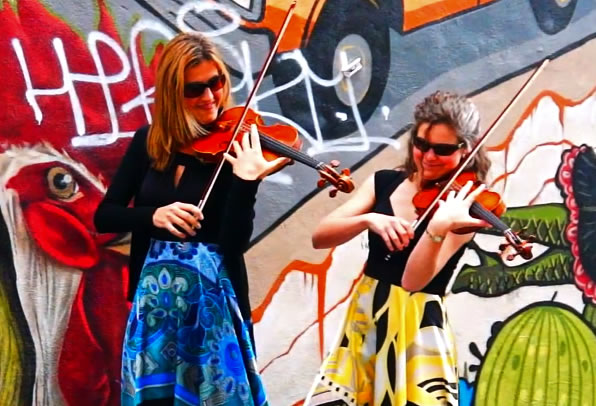 String Visions: First, I'd like to talk to you both about your musical origins. Can you share some information about how you both got started in music?
Caroline Chéhadé: That's the part of our lives which are different. She grew up in Belgrade and I grew up here in Montreal. For myself, music is a family thing. On my mom's side there is a lot of music… just for fun… they all learn music as it's part of the education. But for me it came before the education. My parents used to tell me stories that they would take me to concerts when I was only two years old, and I would listen to the whole thing without falling asleep. Music was always part of my interest, even before I can remember it.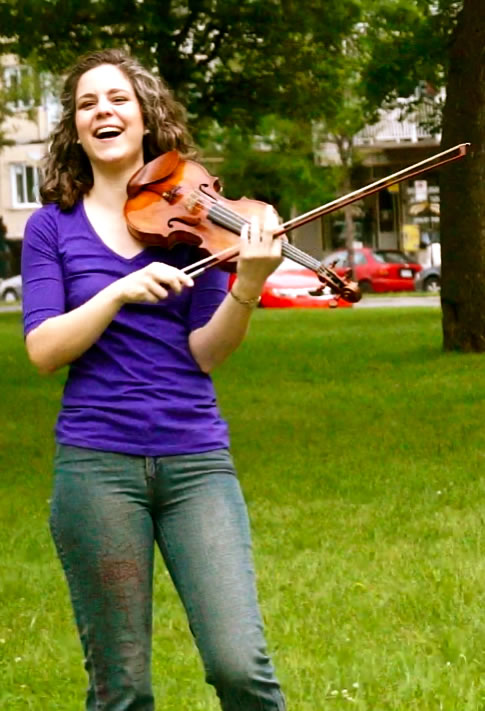 My mom learned the piano with all her siblings when she was growing up because there were a lot of kids, and it was cheaper so they couldn't afford anything else. She always wanted to learn the violin – she picked it up when she was 20 and a medical student. She bought herself a violin and paid for her lessons. I came along 2 or 3 years later. I remember my mom's violin being part of my life very early on. Eventually she would ask me if I wanted to play the violin, and it seemed natural to do so. I've never doubted or said "let me think about it." It just happened and continues to happen so naturally.
So that's how I came into music. Really really early.
String Visions: How old were you when you started?
Caroline Chéhadé: When I started I was almost five.
String Visions: I started about the same age, very early around 4 and a half.
Caroline Chéhadé: That's a good age!
String Visions: That's what they say. Did you study any other instruments?
Caroline Chéhadé: It was pretty much violin. I started the piano the same year, but my parents had 4 kids between 0-5 at the time whom they were eager to spend quality time with at home. As young and busy doctors, they did not have the time to take us to lessons for multiple instruments, or supervise our practice sessions for that matter. In some ways I wish I was a little more versatile, able to play more than one instrument. But at the same time, my parents have always wanted to make sure everything that they and we do is done well…
String Visions: So then it was good because this provided more focus for you, allowing you to really develop your skill in a particular area.
Caroline Chéhadé: Yes. I think that's the opportunity that I had with the violin.
String Visions: How about you Ana? Tell me a little about your story.
Ana Drobac: In my family there were actually no musicians.
String Visions: Really?
Ana Drobac: Yeah I was the first one. Pretty much the opposite of Caroline. In my family there was a lot of activity in various sports – like gymnastics… and some Serbian folk dances *laughs*… and then one night there was a girl who came and played piano. I had no idea what she was playing. Later I found it was Beethoven's Moonlight Sonata. So I came home and I sat down by the table. I was pretending like I could play piano. I told my mother that I couldn't get this music out of my ear and that I wanted to learn how to play piano. But we had a really small apartment so we could never afford to buy a piano.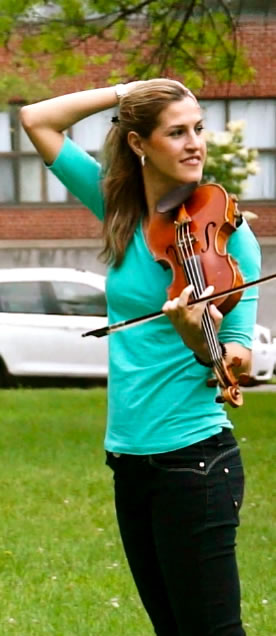 So they said they would take me to the music school… but I would have to play accordion! Because that's a traditional instrument in Serbia. I said okay! And then when we got there there was a theory teacher who asked me to sing some melodies. My first teacher thought I had no talent and after the second class she asked me to change teachers… and here I am today a professional violinist. This story helps me in my teaching to really believe strongly in my students, make sure I give them the chance, and not judge them so quickly!
String Visions: So you are the first musician in your family. Do you have siblings?
Ana Drobac: Yeah I have a brother. My father took him to the music school and they told him he had a great ear and they should put him on the violin. He said "one violinist in the family is enough!" He learned the guitar a little bit, but then he got into basketball later.
String Visions: Still, there is a lot of discipline in sports too so you probably received some of that influence from your family that transferred over into your music studies.
Could you both share a major musical influence or transformative period of time where each of you felt you developed & matured individually before you both met?
Ana Drobac: For me, it was when I entered university. When I was 18 years old I got into the University of Belgrade, but I also got a job in a chamber orchestra. It was a really big moment. It was almost the best chamber orchestra in Belgrade and I was so young. We had opportunities to play with a lot of people, including some pop singers. It was a time when I first got a taste of what it felt like to be a real musician and go on a tour.
And then, of course, the moment I came to Canada…
Caroline Chéhadé: (To Ana) Yes definitely.
For me, I would say that my musical horizons opened up when I met my teacher Anne Robert, who was also Ana's teacher at one point. I was 15 and I'd been playing for 11 years. But she was the first one who believed in me as a professional violinist. That was life-changing. She was probably the biggest influence in my becoming a professional violinist. It was a desire from my heart as I was growing. But I didn't have anybody who knew how to get me there until Anne Robert. She was also the first person who thought it was something I should do in the first place.
That's one thing that Ana and I have in common. We're both the first generation in our family that are professional musicians.
String Visions: That's pretty amazing.
Caroline Chéhadé: Yeah. On my mom's side many people like music, but there is no professional tradition.
So Anne Robert believed in me right away. I asked her once: "what did you see in me when I first came to your house and played for you." She said "I don't know, but I saw something in your eyes. There wasn't anything in particular in your playing, but I could tell something was unique about you."
I can attribute a lot of my playing to her. The best way I can describe Anne Robert's impact on my life is that she "gave me my wings". She always used to say the sky is the limit. And that always stuck with me.
Right (to Ana) she always used to say that?
Ana Drobac: I don't know. Maybe she was just saying that when you were there *laughs*
String Visions: *laughs*
Caroline Chéhadé: No, she said that when you were there too I remember!
Ana Drobac: *laughs* Definitely Anne Roberts changed my life. How I came to Canada was that I had family who immigrated to Toronto during the war. One summer, in 2002, I came to visit them and I went to a summer camp at the Orford Center of the Arts. At that point I was finishing my bachelor's degree in Serbia. I wanted to go study somewhere else because I realized that Serbia had rather limited opportunities. I needed something else… some change… and more opportunity. Serbia is a great country, but it can be difficult sometimes for young people.
String Visions: Yes I remember when I was there several years ago I got that same sense from some of the younger people. There was a lot of interest in seeking opportunities abroad.
Ana Drobac: Yes, it can be difficult to build a good standard of living to be independent there.
So that summer I came to Canada, I was at the camp but I didn't know any of the teachers. I was pretty much choosing them by their pictures. I saw the picture of Anne and I thought she had such had a beatufiul smile. So I said: "Okay I will study with her!"
When I met her there was something so special that I've never really felt with any other teacher. After studying with her for two weeks she said she would accept me as her student. It was really nice. I didn't even have to come back to audition for her. I just sent a CD. She really did so much for me at the beginning in helping me get started; she was and is my family here. I owe so much to her. She made me the person I am today, helping me to develop all the good things in me, even beyond music.
String Visions: When you spend that much time with someone you get to know them on so many levels. They become a friend, a coach (in life and music), and even family. It's really wonderful.
Ana Drobac: I understand that personally as well because I teach a lot and I've found myself filling a variety of roles over time for my students – sometimes I am a teacher, sometimes a friend, sometimes a mom. You really have to be careful then what it is you are giving your students because of how much it can influence them. But, then you realize that you have a huge opportunity to make a positive impact on someone else's life.
String Visions: So then how did the two of you come together?
Ana Drobac: The first time we met was the summer of 2002 when I came to Canada.
Caroline Chéhadé: It's our 10th anniversary this year!
String Visions: Wow!
Ana Drobac: Yeah! We met at the summer festival at Orford. When I was here Anne paired us together for the Prokofiev Sonata. We rehearsed for 2-3 days.
Caroline Chéhadé: She (Anne Roberts) was so impressed that she told we would play it (the Prokofiev Sonata) in concert the next day!
Ana Drobac: That was our first performance together. After that summer I left to go back home to Belgrade and finish my degree. But Caroline was such a good friend… my first friend when I came here. She continued to write to me and we kept up our friendship.
Caroline Chéhadé: It's funny because now she has more friends here than I do! But I will always be her first friend here. That will never change!
Ana Drobac: *laughs*
Caroline Chéhadé: When we first played the Prokofiev sonata together, I remember it was the first time that I played with someone who responded so naturally to my way of playing. It was precisely the response I wanted from a partner. It was very amazing. We played together that summer and it amazed me because we didn't even need to really talk that much. The result was just there. That was exactly what I needed at the time. The directors of the Orford Center told us that if we recorded and published our performance of the Prokofiev Sonata they would definitely buy it!
We didn't see each other for a whole year after Ana went back to Serbia, but when she did come back to study it was during the time when I had a chamber music degree exam. The whole time she was away I was hoping that we could play together for my exam. And, we did! We performed the Prokofiev Sonata again.
Ana Drobac: Yes that was so much fun. When I came back to study in Montreal in 2003 for a year and a half, I played in a duo and a quartet. So it was during that period that I first started entering Canadian chamber music competitions and getting exposure to the musical scene here in this country.
String Visions: So then, how did the idea of Duo Philia emerge from your collaboration?
Ana Drobac: It was actually much later. Caroline went to New York for four years shortly after I came back. We didn't really have any opportunities to play with each other during that time, but we did stay in touch. Then, the second year after she returned, I was visiting her family and we got the idea of asking Mr. Lipsky about his violin duos. We had previously studied with him and he also coached us on the Prokofiev. We were interested to know if his duos had been recorded.
So we gave him a call and asked him about playing his duets. He really liked the idea. That's how we got started playing the duets and recording them. As we played more and more, Caroline and I started to think that we should give our duo a name.
String Visions: That was in 2010?
Ana Drobac: Yeah 2010. It's been two years…
String Visions: I saw the video* of Fiesta! It is fabulous. That was one of the exciting recent projects that you got to work on with him. Can you talk about learning the piece, working with Lipsky, and producing the video?
*The video is embedded at the top of this article. Jean Despax, a graduate student of violin at the Conservatoire de musique de Montréal and a visual artist, collaborated generously and in a very creative way on all the videos.
Caroline Chéhadé: Well… it's interesting because it was both challenging and natural at the same time. Mr. Lipsky's pieces are miniatures, and they are so authentic… I mean you know immediately what the composer is talking about. His writing very clearly conveys what he wants to say. For instance, Latingo has a very latin and tango feel to it, whereas Big Shuffle is more jazz-like with a little country flavour. He has a very vivid imagination, which helped to guide us.
Learning the pieces went pretty naturally and organically though. The main challenging part with Fiesta! is that it is rhythmically very complex… probably the most technical piece of the whole book. You have to have a feeling of how it goes. It's too fast for you to be able to listen and react. There comes a point when you just have to know the music and play it… a little bit more like a jazz musician would do (rather than a classical musician). What I mean is that classical musicians are usually trained and accustomed to playing beats symmetrically divided and in a more rigid structure. But with Lipsky's works, and Fiesta! in particular, you have to be flexible. There's much more give and take, and Fiesta! is challenging because this give and take occurs at a very fast tempo.
String Visions: Would you say that it's a very fitting piece for the two of you? Because you mentioned that Ana was the first person you played with who responded in the way you wanted (natural). I'm guessing that was critical in a piece like this which would come at you so quickly. You would both need to be on the same page with one another.
Caroline Chéhadé: Yeah, I would say energy-wise it worked very well for us. It was perfect. We worked on the ensemble the most, to be perfectly together and keep the spirit of the piece going.
Ana Drobac: I would also say that it's a piece that takes time to learn it, and then more time to really record it. So it was good that we had that time to let it sink in and to mature in our hands.
Caroline Chéhadé: We had recorded some of the other pieces previously: Latingo, Lamentation, and I'Irlandaise but we waited for Fiesta!
String Visions: Was this the first video production you had worked on together?
Caroline Chéhadé: Well we had recorded the whole book but only in a concert hall setting.
Ana Drobac: This was the first location shoot we had done where we went into the city and played in a variety of settings.
Caroline Chéhadé: Once we had a concert where we used lights to enhance. So we recorded some pieces with a blue background
Ana Drobac: Yeah, others were on a yellow background.
Caroline Chéhadé: Right, some even changed colors. We used three cameras for that concert so it was a little bit more than recording a concert normally. But the last video for Fiesta! was a major undertaking and the first time we had done that kind of video.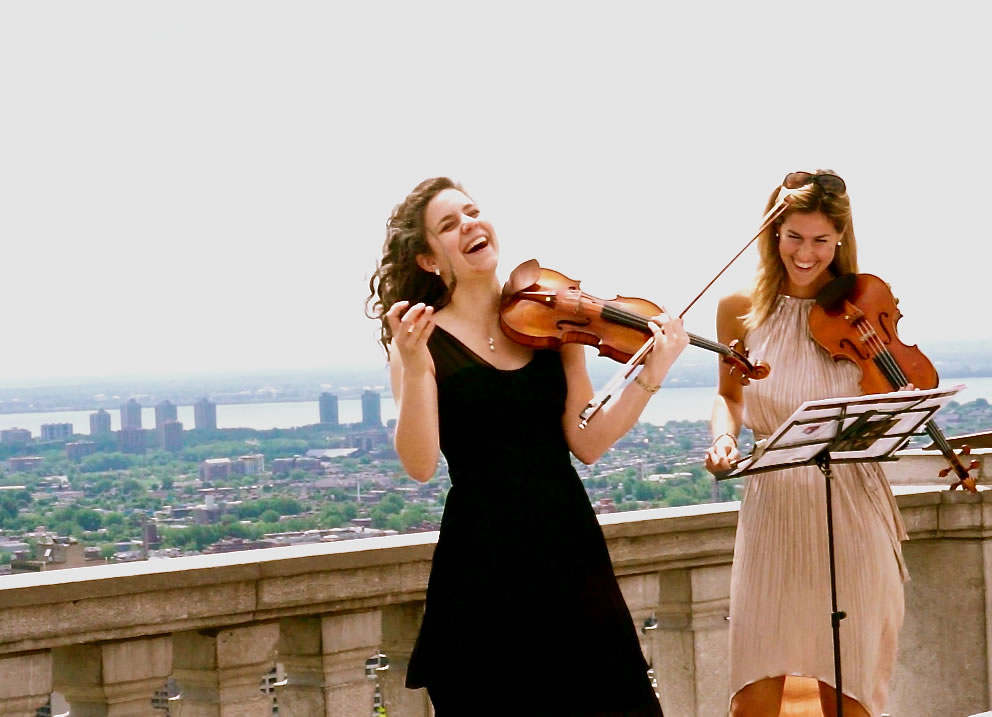 String Visions: How was that as a learning experience? Not everyone is used to doing a production like that. It definitely comes across very natural, the way you are able to allow your characters to be expressed through not just your music, but also your body language, your facial expressions, your movements.
Ana Drobac: It was really fun actually!
Caroline Chéhadé: Yeah I don't think there was any learning curve there. It was just natural.
Ana Drobac: Our expression is something we do pretty naturally when we are playing. So that was normal to let our personalities shine through.
---
This article gave us a look into the musical lives of Caroline Chéhadé and Ana Drobac, the two halves of Duo Philia, as well as their work with Helmut Lipsky. In the continuation of this interview we discuss more about the future of Duo Philia and the passions that drive both Ana and Caroline in their pursuits.
You can also check out Mr. Lipsky's extensive list of scores he has edited and published with Ovation Press.