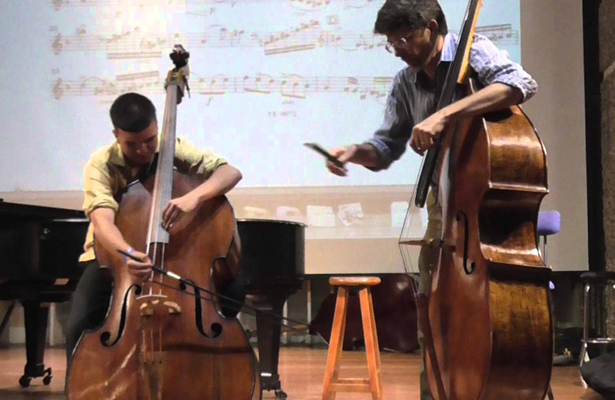 Bradetich edits Bottesini's B minor Concerto for Bass
Italian Romantic musician Giovanni Bottesini was nicknamed the "Paganini of the Bass" because of his virtuosic skill on the double bass. His Second Concerto, one of the most widely-played pieces in the bass repertoire, is a great example of his technical and musical legacy. Bottesini not only showcased his great talent as a performer, but he also made great strides towards moving the double bass into a more mainstream light as a diverse and versatile instrument. Through his compositions and performances, he pushed the boundaries of what was thought possible on the double bass.
Bottesini's Concerto no. 2 is now available with Jeff Bradetich's detailed editorial markings along with a score and parts for string orchestra accompaniment!
About this edition of Bottesini's Concerto No. 2 in B minor for Bass and Orchestra
Considered by some as the triumph of the bass player's repertoire, Bottesini's Concerto No. 2 is an intensely lyrical concerto that will stretch the capabilities of any performer. This edition for bass and string orchestra includes numerous fingering options to accommodate hands of varying sizes, as well as various bowing options that bring out different aspects of the music.
This detailed approach to the fingerings and bowings reflect the many different methods discussed by Bradetich in his book Double Bass – The Ultimate Challenge and also covered in practice through the accompanying Technical Exercises.
*This edition was recently presented by Bradetich at the International Society of Bassists (ISB) 2015 convention.
About the Editor – Jeff Bradetich
Jeff Bradetich is widely regarded as one of the leading performers and teachers of the double bass in the US today. As a young student growing up in Eugene, Oregon, Mr. Bradetich studied with Robert Hladky, cello professor at the University of Oregon. He received his Bachelor's and Master's degrees from Northwestern University where he studied with Warren Benfield and Joseph Guastafeste. His other major musical influences include: performing for ten seasons at the Oregon Bach Festival with Helmuth Rilling, one of the world's leading Bach authorities; summer study with Gary Karr and many of the leading double bass pedagogues in the US; and performing for four seasons with the Lyric Opera of Chicago Orchestra.
Since his New York debut in Carnegie Recital Hall in 1982 he has performed more than 400 concerts on three continents including his London debut in Wigmore Hall in 1986. He has won many major solo competitions and has been featured on radio and television throughout North and South America and Europe including CBS, CNN, BBC, CBC and NPR.
Learn more about Jeff Bradetich and his arrangements at Ovation Press. You can also access a number of fantastic resources by Jeff Bradetich on our blog Ovation Press String Visions.
---
All of these scores are available for download exclusively at Ovation Press. If you want to be kept updated on the latest scores from Ovation Press, be sure to join our mailing list!