Australian cellist Richard Narroway, who recently completed graduate studies at the Juilliard School, is an alumnus of the Bienen School of Music and a former student of Hans Jørgen Jensen. As a member of the Northwestern University Cello Ensemble, he participated in the recording project as an ensemble member, as well as a soloist on Aaron Jay Kernis' Ballad. Mr. Narroway recently took the time to answer some questions about an exciting musical endeavor, his musical goals, and his time at Northwestern.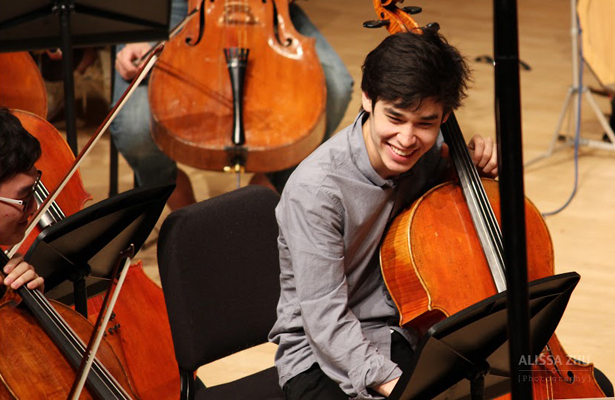 Q. You are currently undertaking a musical tour across Australia to help bring music to different communities. Can you tell us about this endeavor?
A. My project, Bringing Music to Life, started on May 23 and will run for 30 days until June 21. I am traveling around Australia (specifically Darwin, Alice Springs, Adelaide, Melbourne and Sydney), spending a few days in each city presenting Bach's six cello suites and six Australian compositions in concerts, educational workshops and various events. My goal is to engage with specific communities in schools, nursing homes, and even Dance for PD – an organization that helps those who suffer from Parkinsons disease through movement and music. It's going to be an amazing experience, and I hope to make a positive, lasting impact on the community! One essential component of the project is that I will be traveling with a film crew who will help produce not only a recording and cinematic production of all the suites and Australian pieces, but also a documentary that captures the physical and emotional responses of various people being exposed to this music. I'm particularly excited about visiting Uluru, the iconic landmark of Australia. Imagine the sonic possibilities!
Q. As the soloist on Kernis' Ballad, what are your thoughts on the piece and what does it mean to you?
A. Kernis' Ballad is a beautiful work that truly captures the cello's singing quality within a varied stylistic framework that ranges from Romanticism to jazz and even Impressionism. I can't think of an ensemble that would better fit the style of this piece – there is something about eight cellos playing together that is so powerful and evocative. As I was learning the piece, what really struck me was the vulnerability of the solo voice and the way it is so seamlessly interwoven into the texture. Kernis masterfully evokes an elegiac mood through a wide spectrum of dynamic and emotional shadings. From hushed flautando tones to pleading gestures – even to the extremes of agony at the gripping climax and peaceful acceptance at the work's conclusion – there is a clear emotional journey to this piece. I'm not sure if Kernis intended it to be truly programmatic, but it is a ballad after all, and when we take into account his efforts to pay tribute to his late parents, one can't help but be drawn to certain images and emotions.
Q. Do you have any particularly special memories from your time at Northwestern?
A. So many. First of all: Hans Jensen. What a rare human being whose existence on this planet has transformed the lives of so many people. Second, Lake Michigan is something you miss when you move to an urban, urine-infested, bustling metropolis like New York. Also, the NU Cello Studio: a wonderful group of friends and colleagues who will no doubt remain a significant part of my life. All those meals and drinks with Austin Fisher and Thomas Mesa… late nights at Regenstein… even later nights at the Beehive [NU's music practice hall)]… the snowpocalypse when I trudged home in knee-deep snow from Regenstein with the blizzard in full force while wearing not much more than a hoodie, jeans, and a pair of vans. Finally, performing the Elgar Concerto with NUSO and Yampolsky… and of course, meeting my girlfriend! The list could go on and on!
Q. As a musician, what do you hope to accomplish professionally?
A. I want to make a positive, lasting impact on communities around me. Bringing Music to Life is the first step. My dream is that this will become an annual endeavor that will eventually expand outside Australia and to the rest of the world. I also love performing (both solo and chamber music) and teaching, so I hope a combination of these will form my future career!
Q. What gives you the most satisfaction as an artist?
A. The never-ending quest to dig deeper and the satisfaction of sharing music and connecting with others. Aside from the spiritual gratification of solo Bach, I adore chamber music. There is something about playing with a quartet or trio or other kind of chamber ensemble that functions as a metaphor for humanity and relationships. It requires understanding, compassion, creativity… invaluable skills worth cultivating.
Q. Is there a specific musician that you particularly admire or emulate? Where do you get your inspiration?
A. Most of my inspirations are outside the cello realm: Isabelle Faust, Glenn Gould, Stephen Hough, Robert Levin, the Hagen Quartet, the Brentano Quartet, Dietrich Fischer-Dieskau among others. But, a few cellists come to mind also: Nicolas Altstaedt for his versatility and virtuosity; Miklos Perenyi for his musical integrity and modesty; Jean-Guihen Queyras for his wonderful sound and natural musical instinct; and Steven Isserlis for his phrasing. Even tennis players like Roger Federer for his poise and perfection are influential on me. I find inspiration in reading books, treatises, listening to other instruments, jazz groups, orchestras, and even just simply conversing with someone who is passionate about what they do. I have been reading a book, Musicophilia, by Oliver Sacks that includes stories and accounts of people with neurological disorders like dementia and discusses how music has played a transformative role in their lives. This is inspiring in a totally different way. Inspiration is all around us.
Q. Do you have any routines before a performance?
A. Not really. For a more serious evening concert, I prefer to practice in the morning, relax in the afternoon, and warm up for an hour or so before the concert. If I have low energy I might go for a jog or take a quick power-nap. However, I don't imagine I will always have this luxury, especially during this upcoming tour with all the traveling and workshops. I might only get 10 minutes backstage! Yet, I'm excited for this challenge.
Q. If you weren't a musician, what would you do for a career?
A. Play tennis.
Q. How has your work with Professor Jensen shaped your development as a musician?
A. I could go on forever about Hans' contagious personality and energy but there is something more specific that has remained with me. Hans is tremendously gifted when it comes to understanding – and adapting to – the varying personalities, instincts, and musical tendencies of his students. It's scary to think, looking back, that at times Hans seemed to know me better than I knew myself. It's as if he knew certain things were inside me that at the time I couldn't even comprehend or process. In that regard he was truly pivotal in helping me find my musical voice. I don't know anyone, apart from my parents and siblings, who has understood me as a person and musician more deeply than Hans. And for his patience with me, I am endlessly grateful. His belief in my talent and cello playing has propelled my motivation ever since.
The Northwestern University Cello Ensemble is currently working on their album Shadow, Echo, Memory. Please enjoy this sneak peek below, and be sure to become a fan on Facebook and follow them on Twitter.